Igor Bellido Junior Triathlon World Champion.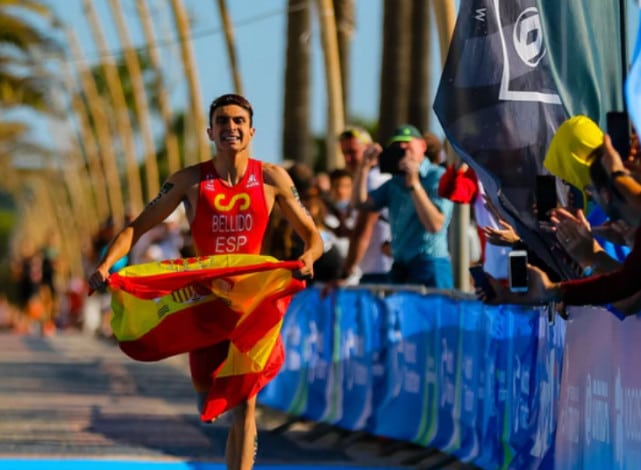 Under the Algarve sun on the beach of the Portuguese city of Quarteira, the Spanish Igor Bellido he followed in the footsteps of his idol Mario Mola (Gold Coast 2009) by winning the world title of Junior World Triathlon this Saturday afternoon.
Igor has achieved the victory with a time of 55:22 followed by Joao Nuno (55:39) and por Dominic Coy - 55:40
"The race was very tough, there were a lot of good athletes out there, "but many got off the bike and we had to be careful and avoid them.
He knew he had to get straight out of T2 and that was where he could win and what he had been training for. I just want to thank my family and the coaches and I can't wait to celebrate this. with them »said Bellido at the finish line.
Results
| | | | | |
| --- | --- | --- | --- | --- |
| POSITION | ATHLETE FIRST | ATHLETE LAST | NATIONALITY | TOTAL TIME |
| 1 | Igor | Bellido Mikhailova | ESP | 00:55:22 |
| 2 | Joao Nuno | Batiste Polka Dots | BY | 00:55:39 |
| 3 | Dominic | Hammock | GBR | 00:55:40 |
| 4 | Mitch | kolkman | NED | 00:55:48 |
| 5 | Justus | Topper | GER | 00:55:59 |
| 6 | Gjalt | panjer | NED | 00:56:03 |
| 7 | Miguel | Espuna Larramona | ITA | 00:56:10 |
| 8 | Luca | Luberti | SUI | 00:56:12 |
| 9 | Esteban | Basanta Fouz | ESP | 00:56:15 |
| 10 | Andrés | Prieto Villar | ESP | 00:56:18 |