III National symposium for endurance sports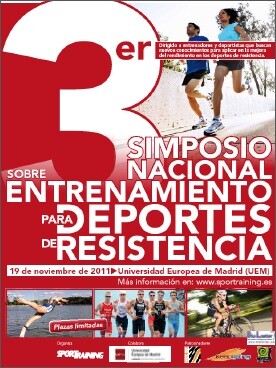 For all lovers of individual endurance sports, including Triathlon, next November 19 the III NATIONAL SYMPOSIUM FOR RESISTANCE SPORTS , backed by the excellent reception of previous years and organized by Sportraining with the collaboration of the European University of Madrid (UEM) and the support of All In Your Mind .
Among other speakers of recognized prestige, we will have the presence of Roberto Cejuela, Doctor in Sciences of Physical Activity and Sports, with the thesis "Analysis of Performance Factors in Olympic Triathlon", Professor at the University of Alicante, and Senior Triathlon, Athletics, Swimming and Cycling coach.
El Symposium It is aimed at both trainers and professionals in physical activity and nutrition, as well as self-taught athletes looking for new resources in terms of training to be able to put into practice.
The objectives pursued are based on bringing scientific knowledge to both coaches and athletes, as well as providing an important tool that helps in the training and retraining of sports training professionals.
All the content of the conferences is based on research. The professors, of recognized prestige, combine scientific knowledge and experience, offering us new approaches to help in the process of performance improvement.
All attendees will receive a designer Ironman t-shirt valued at € 25, a Power Breathe Classic Competition valued at € 45 and various samples of Keepgoing bars and gels.
For more information about the Symposium and Registration, download the following link the pdf