Iñigo Urrechu, from the habit of smoking to the passion for triathlon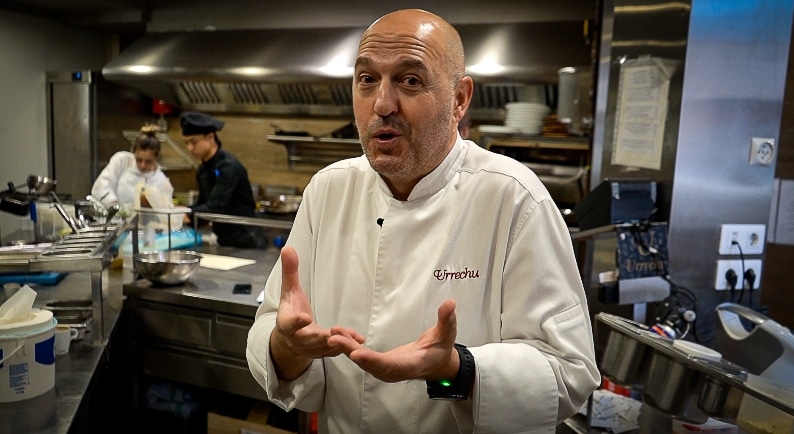 the renowned chef Iñigo Urrechu, owner of several successful restaurants in Madrid, including the emblematic Zalacaín, is also a passionate triathlete in his spare time.
From smoking to Ironman triathlete
Urrechu used to smoked more than two packs of tobacco a day and weighed 25 kilos more what it weighs now One day, she realized that she needed a third pack of cigarettes and decided to change her life.
He quit smoking and started playing sports., which ultimately led to him completing several Ironmans.
Urrechu in addition to the Triathlon He has done crazy things like doing 100 km on the track and various tests ultra distance of 110 km or even 24 hours continuous running.
Love for Madrid and its surroundings
Urrechu considers himself from Madrid by adoption, since has been in the capital for 28 years.
He appreciates the cosmopolitan life of Madrid, as well as the landscapes of the Community of Madrid, which he has been discovering thanks to his bicycle.
In addition, he feels a special affection for Pozuelo de Alcorcón, where he opened his first restaurant.
Cook for the customer, not for the stars
the basque chef does not seek Michelin star recognition and he affirms that he cooks thinking about not disappointing his clients.
He doesn't like to cook just to get flashy photos on Instagram, since for him, a cook must focus on the quality and taste of the food.
Support for the European Triathlon Championship in Madrid
Although You will not be able to participate in the European Triathlon Championship from Madrid from June 2 to 4 due to injury, Urrechu plans to attend the event with his family.
This chef and triathlete proves that passion for sport can change lives and that love for a city can enrich the sporting experience.