Inma Pereiroy Alejandro Santamaría prevails in the Andalucía Doñana Challenge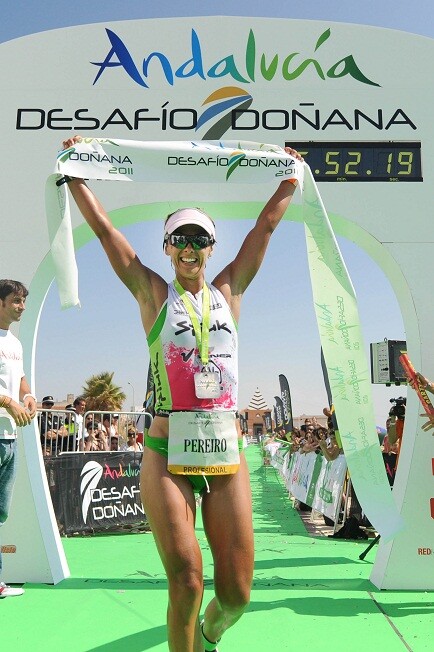 The Spanish Inma Pereiro has today become the first woman to repeat victory in one of the toughest events on the international long-distance triathlon calendar, the Andalucía Desafío Doñana. With a time of 7 h. 19'45 '', Pereiro had a spectacular race and it was the best from start to finish. A day with spectacular weather but with difficulties especially when passing through the Guadalquivir, due to the strong currents.
In second position was classified, as last year, the Italian Martina Dogana, who had won in the first edition of 2009, who carried out a chase especially in the foot race over Pereiro, but could not stand the high pace of the Spanish and had to settle for second place in the competition. In third position was the Swedish Camilla Larsson.
In the men's category, the third edition of the Andalucía Doñana Challenge has seen how, for the first time, a Spaniard won the test. The Spanish Alejandro Santamaría, with a time of 6 h. 46 '16' ', has achieved victory in the Doñana Challenge based on tenacity and effort. In 2009 he was 3rd, in 2010 2nd and now in 2011, he has risen to first place, so no one better than him to proclaim himself the first Spanish winner. The Italian Massimo Cigana finished in second position and the Spanish Héctor Guerra also finished third.
Inma Pereiro showed her joy as soon as she entered the finish line, greeting the many spectators who were present at the finish line located on Matalascañas beach, in the municipality of Almonte, in Huelva. "For me it is an honor to become the first woman to win this competition twice, here I feel at home, the public cheers a lot, and despite its toughness I get along very well due to its characteristics. Next year I will have to come back, for sure ".
For his part, Alejandro Santamaría, was euphoric "to achieve what I had been looking for since my first participation, which was nothing other than winning, I was ready in the first two editions but luckily this year I have been able to achieve it. It's a rush that hit me when I reached the finish line and knowing that there was no one in front of me and I had entered first ".