Romain Guillaume and Lucy Gossage winners of the Ironman Lanzarote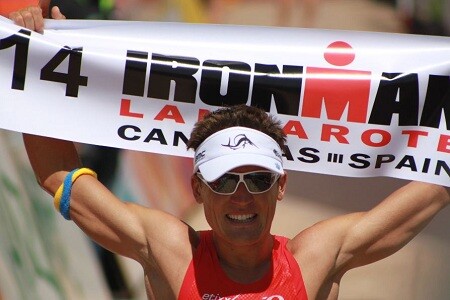 Miquel Blachart got the best time in the marathon which allowed him to reach the second goal
More than 2.200 triathletes have faced yesterday they faced the 3,8 km of swimming followed by 180 km of cycling and finishing the test with 42 km of running.
The Belgian started as favorites to win Bert Jammer, twice winner of the ironman of Lanzarote, Miquel Blanchart second in 2013, the Swiss Ronnie Schidknecht, 7 times ironman winner in Switzerland, and the young Romain Guillaume that in spite of showing his strength in the cycling segment, he promised to give everything in the race on foot, and that's how the first podium was achieved.
Romain Guillaume has achieved the victory in the 23ª edition of the Ironman of Lanzarote with a total time of 8: 47: 39. Secondly it has finished Miquel Blanchart with 08:58:06, repeating the same position from last year, and in third position I arrive Bert Jammaer with a time of 09:00:44. The fourth and fifth place have been achieved Joel Jameson who has managed to enter the finish line on 09.08.32 and Henrik Hyldelund with 09.09.14.
Miquel Blanchart He started the race well by placing himself in the group of favorites in the swimming sector, but already in cycling he lost just over fifteen minutes to reach the transition of the race on foot. In the marathon Miquel made a great comeback marking the best time which allowed him to reach the second goal. Iván Álvarez finished in 9ª position
The female podium was expected to be very contested between Sonja Tajsich , Kristin Moller, winner in 2013 and Lucy Gossage since the first two have two of the best running brands on foot in ironman tests. However Lucy after achieving the 2 position in the ironman of South Africa was recovered and ready to fight for the 1º position despite the high level of its rivals.
Lucy Gossage I entered the first finish line with a time of 09:41:40, followed by Susan Blatt in second place with a time of 09:44:59 and in third position I arrive Corinne Abraham with 09: 51: 41. In fourth place did the German Kristin Möller with 10.05.55 while Saleta Castro he has done it in fifth place with 10.12.35.
Top 5 Men
| | | | | |
| --- | --- | --- | --- | --- |
| 1 | Roman | Guillaume | FRA | 8:47:39 |
| 2 | Miguel | Tinto Blanchert | ESP | 8:58:06 |
| 3 | Bert | Jammaer | BEL | 9:00:44 |
| 4 | Joel | Jameson | GBR | 9:08:32 |
| 5 | Henrik | Hyldelund | THE | 9:09:14 |
Top 5 Feminine
| | | | | |
| --- | --- | --- | --- | --- |
| 1 | Lucy | Gossage | GBR | 9:41:40 |
| 2 | Susan | Leaf | GER | 9:44:59 |
| 3 | Corinne | Abraham | GBR | 9:51:41 |
| 4 | Kristen | Moller | GER | 10:05:55 |
| 5 | Saleta | Castro | ESP | 10:12:35 |