Menorca hosts the latest circuit test ISOSTAR EXTREME MAN 2013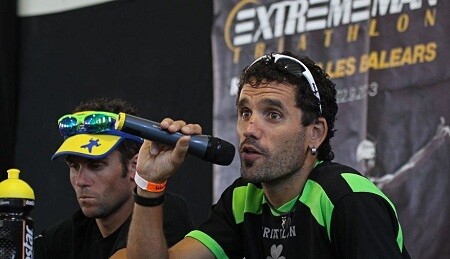 ISOSTAR EXTREME MAN Menorca will start the 07: 30 h. in the morning with the swimming circuit in Fornells
The pavilion of Fornells welcomed on Saturday morning the presentation of ISOSTAR EXTREME MAN Menorca, which will live today September 22, its fourth edition with participation record: more than 800 triathletes.
The participants of this triathlon in medium distance format, they will have to swim 1.900 meters, followed by 90 km of cycling and 21 km of running on foot to finish the test.
The German Niclas Bock , Jan Raphael and Spanish Raúl Amatriaín as favorites to victory, although Xabi Llobet I'm sure he'll try to make things difficult for you.
Raúl Amatriain that revealed that closes season in this triathlon has left us his impressions for the race, also Juanan Fernandez Brand Manager of ISOSTAR Extreme Man.
Finally, the organization has revealed that the expansion of ISOSTAR EXTREME MAN that, in 2014, will premiere a new test in Germany.
Further information: www.extreme-man.com