Iván Raña will compete in Club La Santa 4 Stage MTB Race Lanzarote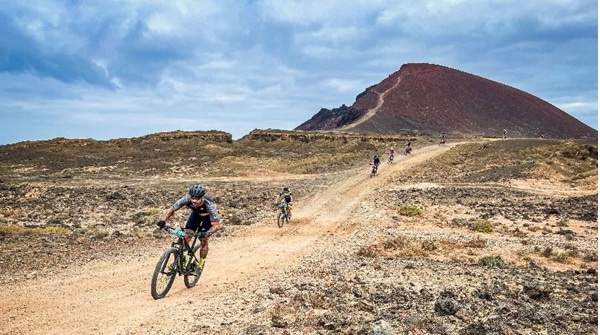 The 4th anniversary of the XNUMX Stage MTB Race Lanzarote will gather from Saturday, January 22 to Tuesday, January 25, 411 runners of 21 nationalities on the island.
The event, a reference within the biker world, is the the only S1 test of the International Cycling Union (UCI) that is held in the Canary Islands and marks the start of the Club La Santa racing calendar.
Club La Santa, organizer of this important competition that brings together numerous bikers from different parts of the planet, has collected some statements from renowned participants who will attend it.
IvAn Raña, who last September announced that he was leaving the professional triathlon, was excited to participate in this race: "Competing in what is my home for several months a year is exciting."
The renowned Galician athlete has also stated that: "After 20 years knowing that you organize this race and always seeing it from the sidelines, I thought it was time to experience it from within. I'm sure it's going to be very fast.".
For its part, Ishmael Venture, who will participate for the sixth time in the 4 Stage MTB Race Lanzarote, pointed out that: "This race has a high level of runners, including bikers from other countries, so it is usually very disputed.
My goal is to have a good general classification, last year I was able to win a stage and get on the podium in another".
The Catalan biker has also highlighted that: "Club La Santa has a lot of experience in organizing this test and knowing that everything is going to be perfectly planned is also a plus point.r ".
Anne-Dorthe Lisbygd, winner of the 2021 edition, has acknowledged being nervous and excited about participating in this race again.
"The 4 Stage MTB Race Lanzarote brings together a bit of everything. Paths where you simply pedal without thinking too much, areas of sand or with volcanic rocks, magnificent vineyards and volcanoes as views and also the meters of unevenness", pointed out the Dane.
Finally, Fabio Cabrera, Race director and head of sports at Club La Santa, has expressed his satisfaction at already celebrating the twentieth edition of this race and has recognized the work of the entire Club La Santa team that has made this event a reality.
In addition, Cabrera highlighted that: "the application of sanitary protocols during all the events of 2021, in the middle of the pandemic, has allowed us to start our 2022 racing season with the support of the authorities, confidence and without lowering our guard to start this exciting calendar".
THE 4 STAGE MTB LANZAROTE RACE 2022
Next Saturday begins a new edition of one of the toughest races that will demand the best of all its participants, both professionals and amateurs.
To start, a first stage with departure and arrival at Club La Santa, with a distance of 42,1 kilometers.
El second day, a 59,7-kilometre stage that will test the endurance of all cyclists.
La third stage, with a drop of 500 meters and a 20,6 kilometer route, will start in Caleta de Famara and go up to Las Nieves.
Finally, the last stage will be the hardest of all, with a distance of 81,6 kilometers and will include "La Presa Contrarreloj".
With 90% of the route being off road, the race falls under the S1 category of the UCI competition calendar. A total of 411 cyclists have registered, of which 286 are Spanish and the rest from other countries.
Lanzarote begins this 2022 with the usual pulse and maintains its commitment to active tourism thanks to the celebration of events and sporting events of an international dimension, such as this 4 Stage MTB Race.