Jakob Ingebrigtsen, best European brand in the 10 km en route running to 2: 47 min / km
The athlete got a time of 27: 54 in the test held at Hytteplanmila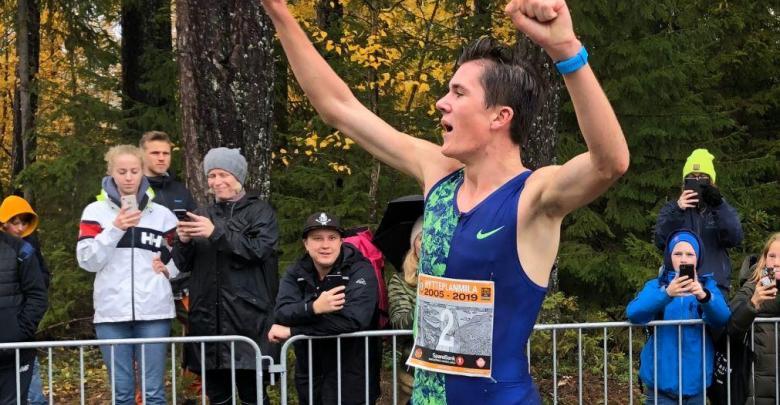 The Norwegian athlete Jakob Ingebrigtsen has established yesterday Saturday the best European mark of the year in the 10 kilometers en route.
He has done so in the test held in the Norwegian town of Hytteplanmila with a 27 time: 53, which means running to a 2 average: 47 min / km.
With the time achieved in the test, it has also beaten the sub-20 continental record, surpassing the "Chiqui" Pérez brand with 27: 59 in January at the 10.000 in Valencia.
He has also established the Norwegian record in the distance, improving the Sondre Nordstad brand in a second
‼ ️‼ ️‼ ️New Norwegian ?? 10km record and 2019 European Best for @JakobIng at Hytteplanmila: 27: 53.https://t.co/XX3eBrX9pX pic.twitter.com/u9DSmyKKW1

- NFIF (@Norsk_Friidrett) October 19, 2019


It debuted in the 10 km en route

The European champion of 5.000 and 10.000 meters debuted in the 10 km en route and did so with two partials of 14: 01 in the first 5 kilometers and 13: 53, in the second 5 kilometers.

Partial of the race

1 km - 2: 47
2 km - 5: 33
3 km - 8: 24
4 km - 11: 18
5 km - 14: 01
6 km - 16: 48
7 km - 19: 42
8 km - 22: 35
9 km - 25: 17
10 km - 27: 53

Hytteplanmila 10km

? 27:53 Jakob Ingebrigtsen ノ ル ウ ェ ー 新 記録

14:00-13:53 pic.twitter.com/JhJWZUgYuP

- Y (陸上 長距離) (@yrdbki) October 19, 2019