Jan Frodeno wins Challenge Miami
The German with a great running segment has achieved victory.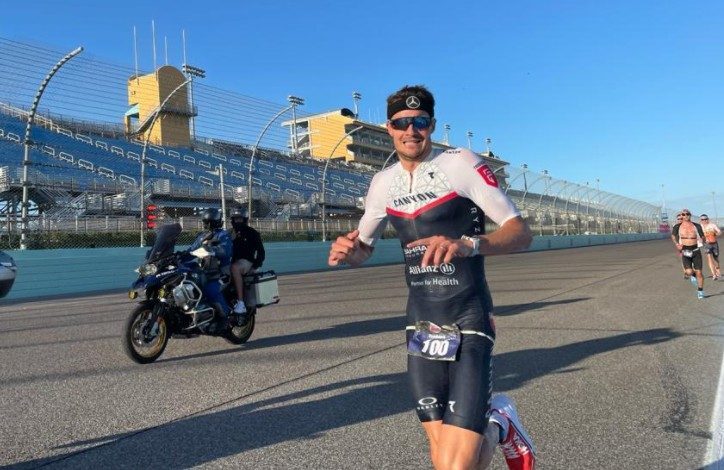 After the female test where Jodie Stimpson got the victory it was the turn of the men's event, with a large lineup of professionals.
With the German World Champion Jan Frodeno as the great favorite, the test began at 21:15 p.m. Spanish time.
In the test there were also two Spaniards, Pablo Dapena y Emilio Aguayo.
The competition has been contested at the NASCAR Homestead-Miami Speedway circuit with a distance of 1.500 m of swimming, 60 km of cycling and 16,9 km of running.
The first to get out of the water was Ben Kanute followed by Nicolas Kastelein and Jan Frodeno at 2 seconds. Dapena was fifth at 28 seconds and Aguayo started at 1:19. Sanders left more than 2 minutes from the head of the race
In the cycling segment, a group of 6 units was formed in 13 seconds, with Frodeno, Kanute, O'Donnell, Kastelein, Von Berg and Pablo Dapena.
Behind little by little Adrew Starykowicz, showed his level on the bike, climbing positions and reaching the leading group at kilometer 21.
With a strong rhythm Starykowicz and Frodeno stayed in the lead gradually moving away the rest of the group passing through km 30 with 15 seconds on Magnus Elbaek and 24 on Von Berg, Kanute and O'Donnell. Dapena passed 2 minutes.
The leading trio continued to increase the lead to reach T2 with Starykowicz in the lead followed by Elbaek at 20 seconds and by Frodeno at 24. Fourth was Von Berg almost 2 minutes behind the North American.
Kanute was 5th at 2:45, Leiferman 6th, Dreitz 7th at 3:06 and Sanders 8th at 3:16. Pablo Dapena at this point was 13th over 5:38 minutes and Emilio Aguayo passed over 11.
In the foot race, Frodeno made it clear from the start that he was looking forward to victory by putting himself first and passing through the 2,5 km with 17 seconds ahead of Elbaek and 36 over Starykowicz.
Little by little he increased his advantage to be at kilometer 12 of the race with 2:24 over Lionel Sanders, who had come back several positions. Elbaek was third at 3:10 and Leiferman fourth at 3:29
Finally, Jan Frodeno he got the victory with a time of 2:37:48. In second position he entered Lionel Sanders (2: 40: 28) followed by Ben Kanute (2: 41: 35) in third position.
As for the Spanish Pablo Dapena (2:45:47) was 12th and Emilio Aguayo (2: 53: 59) 26º
Classification