Jan Frodeno wins the Mogán Challenge
Pablo Dapena was second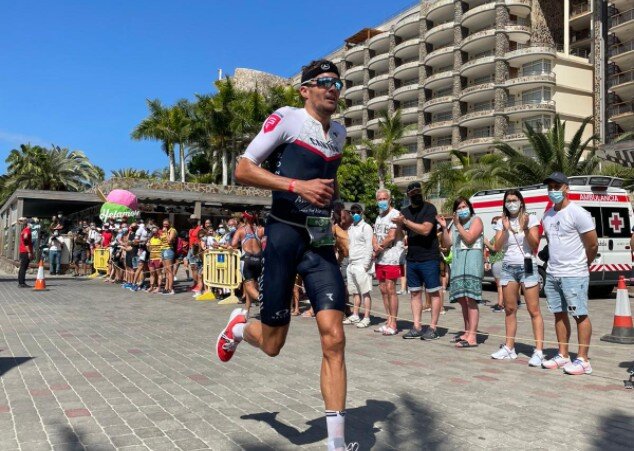 Today a new edition of the Challenge Mogán where a first-rate participation has been seen again.
Professionals of the stature of Jan Frodeno, Patrick Lang, Pablo Dapena, Nicola Spirig, Lisa Norden, Sara Perez Living room, Ivan Raña o Judith Corachán among others they have started today.
The test that began at 08:00 local time, has been contested on the distance of 1.900 meters of swimming, 90 kilometers of cycling and 21 of running on foot.
In the men's event, the first to come out of the water was Andrea Salvisberg followed by a group of 8 in 12 seconds with Jan Frodeno, Pablo Dapena. Patrick Lange started almost 50 seconds from the head of the race.
During the cycling segment a group was formed in the lead with Frodeno, Pieter Heemeryck, Giulio Molinari, Andi Boecherer, Mattia Ceccarelli and Pablo Dapena that stayed together to reach T2 in 12 seconds.
Behind Patrick Lange was less than 1 minute in fifth position to the transition.
In the foot race Frodeno had no rival and from the first moment he has shown his great quality in this segment,
Proof of this was the passage through km 4 of the race where he was ahead of Pablo Dapena by 1 minute, and Boecherer by 1:13.
Lange, with a strong comeback, was in second position, overtaking Dapena at kilometer 13, placing 1:21 behind Jan.
Finally, Jan Frodeno has achieved victory with a time of 3:41: 03:41:21 followed by Pablo Dapena (03: 42: 30) and for Nick Kastelein (03: 42: 42) in third position.
Patric Lange has been fourth with a time of 03:43:05
WINNER OF ANFI CHALLENGE MOGAN GRAN GRAN CANARIA IS @Janfrodeno in 3: 41: 21 #wearetriathlon #challengefamily #allabouttheathlete #ChallengeGranCanaria pic.twitter.com/xuiRrUeKeH

- Challenge Family (@Challenge_Famil) April 24, 2021
As for the rest of the Spanish Albert Moreno It has been 6º, Víctor Arroyo It has been 19º, Javier Perez 29º and Julen Díez 38 º
Classification
| | | | |
| --- | --- | --- | --- |
| Post | Dorsal | Athlete | Time |
| 1 | 3 | Jan FRODENO | 3:41:21 |
| 2 | 2 | Pablo DAPENA GONZALEZ | 3:42:30 |
| 3 | 33 | Nick Kastelein | 3:42:42 |
| 4 | 5 | patrick lange | 3:43:05 |
| 5 | 12 | Andi BŠCHERER | 3:45:36 |
| 6 | 8 | Albert MORENO MOLINS | 3:46:57 |
| 7 | 44 | Andrea SALVISBERG | 3:47:33 |
| 8 | 20 | James Teagle | 3:48:23 |
| 9 | 17 | Nils FROMMHOLD | 3:48:30 |
| 10 | 4 | Giulio Molinari | 3:48:33 |
Female test