Jan Frodeno wins the Tri Battle Royale beating the world record in Ironman distance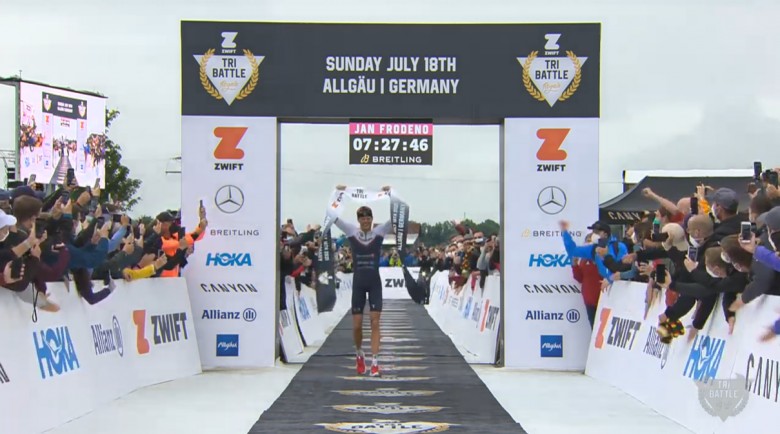 Today the expected duel between the triple world champion IRONMAN has been played Jan Frodeno and the Canadian Lionel Sanders, after several weeks "heating up" the atmosphere in a challenge that began on social networks.
The competition was held in Allgäu (Germany) with cold and rain, conditions that have marked the competition.
What was the Tri Battle Royale?
The Tri Battle consisted of swimming 3,8 kilometers in the Grosser Alpsee lake, cycling 180 km in a fast circuit and prepared to avoid touching the brake as little as possible and a completely flat marathon (42,2) ideal to beat the record of the world that Frodeno himself holds with 7:25.
Career Chronicle
It all started with the swim segment where Frodeno started with a time of 45:58 while Sanders did it in 50:58.
In the cycling segment Frodeno was increasing the advantage to get off the bike with a segment in 3:55:22 while Sanders completed it in 4:00:26.
One of the peculiarities of the circuit is that in the laps they have built a platform to avoid touching the brake and increase the speed of the race. This is the video of the passage through the area
All set for tomorrow and 5 times around the '@canyon_bikes Turn 'at @GoZwift Tri Battle Royale.#tribattle #frodissimo #nolimits pic.twitter.com/F5pWwBRWj4

- Tri Battle Royale (@tri_battle) July 17th, 2021
In the passage through the first lap of the foot race Jan suffered a fall, but without consequences, as he quickly returned to running at a good pace.
💥 Frodeno's hard fall that still stands

📺 Come to GOL to see the outcome of the #TriBattleEnGol pic.twitter.com/gOsAXbxKoW

- GOAL ⚽ (@Gol) July 18th, 2021
As for Sanders, he was seen a little more just always running below the rhythms of German.
As for Sanders, he was seen a little more just always running below the rhythms of German.
In the rest of the marathon Jan Frodeno he stood his ground to win the challenge and beat the (unofficial) world record with a time of 7:27:53. Lionel Sanders He entered the finish line with a time of 7:43:30.
Jan Frodeno breaks his own world record
With this time Jan has beaten the World record in the Ironman distance, although not in official competition, which the athlete himself had with 7:35:39 achieved in Challenge Roth 2016.
Best Brand for Lionel Sanders
For his part, Lionel has achieved with this time his best personal brand in the distance, a few weeks after having competed in the IRONMAN Coeur d'Alene where he finished in 11th position.
It may interest you The fastest times in IRONMAN
The times of Jan Frodeno
Swimming: 45:58 (pace of 1:12 min / 100)
T1 00:59
Biking: 3:55:22 (45,89 km / h pace)
T2 1:13
Race on foot: Earring
The times of Lionel Sanders
Swimming: 50:58 (pace of 1:20 min / 100)
T1 00:39
Biking 4:00:26 (44,92 km / h pace)
T2 0:58
Race on foot: Earring