Javier Gómez Noya Champion of the World of Trialtón LD 2019. Pablo Dapena second.
Pablo Dapena has been second in the world runner-up.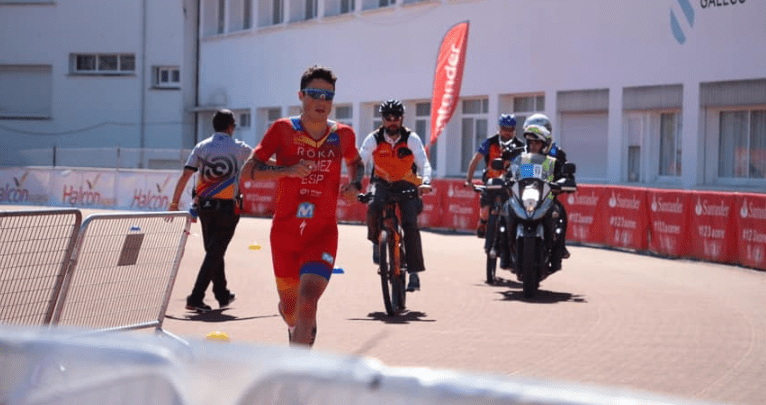 The Galician triathlete Javier Gómez Noya He has achieved victory in his city, adding this world title to his extensive palm groves where he already has 9 world championships among the various disciplines as an elite athlete.
Today it has been played in Pontevedra the last World Cup within 2019 Multisport Festival, with the dispute of the LD World Championship.
The morning began with the announcement of Cutting of the swim segment from 3.000 to 1.500 meters. Dapena and Noya, commented yesterday at the press conference prior to the competition that this measure could harm them, since they are very good swimmers compared to the rest of competitors that a priori could be better cyclists.
The test started a little later than planned, due to the cut in swimming where the first to get out of the water was Javier Gómez Noya, leaving 10 seconds ahead of the trio of Daniel Bakkegard, Sebastian and Pablo Dapena. Albert Moreno left at 2 minutes, Ander Okamina at 2:35, Gustavo Rodriguez at 4:14 and Ander Irigoien at 6.
Swimming water outlet
. @Jgomeznoya is the first man out of water and leads the #ITUpontevedra19 Long Distance World Champ after 1,500m SWIM pic.twitter.com/W3uaN6np6P

- ITUpontevedra19 (@ ITUpontevedra19) May 4th 2019


In the tough and demanding cycling circuit a group was formed in the lead with Noya, Dapena, Terenzo Bozzone who recovered in the first km the time lost in swimming, Bakkegard and Fraysse.

In the passage through the second lap, a group of 12 riders was already leading in just 20 seconds, in the passage through the third lap, the demanding circuit took its toll on many trialtetas, leaving the group in 7 units in 11 seconds, where were the Spanish Noya, Dapena, Moreno as well as Bozzone, Hogenhaug or Antony Costes.

Javier Gómez Noya in the cycling segment

So it rolls @Jgomeznoya leading the #ITUpontevedra19 in the cycling segment pic.twitter.com/6R8nWmMJ33

- ITU Multisport (@ITUmultisport) May 4th 2019


Finally, upon arrival at T2 Terenzo Bozzone arrived 20 seconds ahead of Kovacic, 33 over Dapena and 40 over Noya and Moreno.

In the race on foot we quickly saw the great quality of Noya climbing positions to go through the first lap of the circuit in the lead with already 17 seconds ahead of Pablo Dapena and 28 over Bozzone. Albert Moreno was fourth, 52 seconds behind the head.

Noya, with a great pace, was increasing his advantage to go through the second round with 1 minute of advantage and with 2:48 in the third over Dapena and 3:24 over Bozzone heading to victory

Finally, Javier Gómez Noya has achieved the final victory with a time of 5:05:35. Pablo Dapena (5:11:21) has been second and Jaroslav Kovacic (5: 12: 09) third, but they have not reached the goal.

As for the rest of Spanish Gustavo Rodríguez It has been 12º, Ander Okamina 17º and Ander Irigoien 25º. Albert Moreno He has withdrawn from the test due to stomach discomfort.

Entry into goal by Javier Gómez Noya

Spain's hero of triathlon? @Jgomeznoya has claimed the 2019 long distance triathlon world title in front of a home crowd! ??#ITUpontevedra19@TRIATLONSP ??@ITUmultisport @ITUpontevedra19 pic.twitter.com/DaC6ngMi7G

- TriathlonLIVE (@triathlonlive) May 4th 2019


Goal entry by Pablo Dapena

Silver medal! @TRIATLONSP Paul Dapena??@ITUmultisport @ITUpontevedra19 #ITUpontevedra19 pic.twitter.com/wGxXkbTBh9

- TriathlonLIVE (@triathlonlive) May 4th 2019


Video summary

Classification

1 #21 Javier Gomez Noya ESP 05: 05: 39
2 #1 Pablo Dapena Gonzalez ESP 05: 11: 21 + 00: 05: 41
3 #7 Jaroslav Kovacic SLO 05: 12: 02 + 00: 06: 23
4 #3 Kristian Hogenhaug DEN 05: 12: 09 + 00: 06: 30
5 #23 Antony Costs FRA 05: 14: 18 + 00: 08: 39
6 #29 Daniel Bakkegard DEN 05: 15: 04 + 00: 09: 25
7 #31 Terenzo Bozzone NZL 05: 15: 22 + 00: 09: 43
8 #6 Miki Taagholt DEN 05: 15: 29 + 00: 09: 50
You can read the chronic of the female test Where Judith Corachán has been runner-up and Anna Noguera bronze