Javier Gómez Noya World Champion IRONMAN 70.3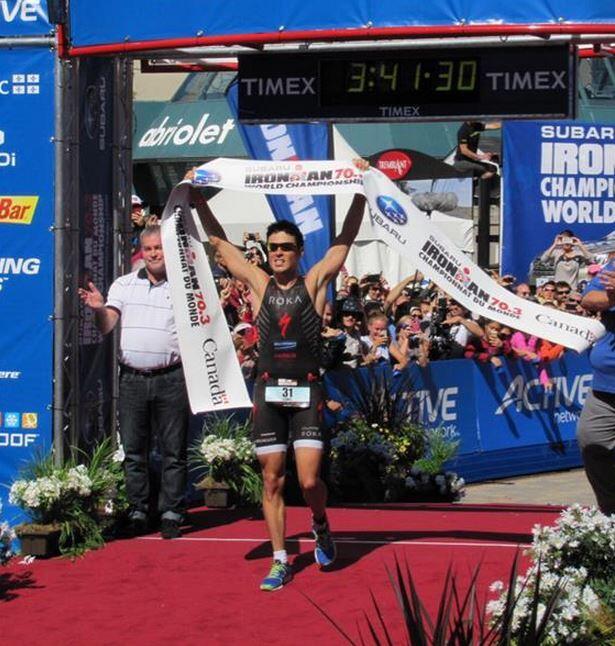 Impressive recital that he gave today in the Canadian town of Mont Tremblant, winning the IRONMAN 70.3 World Championship.
The Galician, who last Sunday managed to proclaim himself ITU Triathlon World Champion in Edmonton, this afternoon he has once again demonstrated that he is one of the best triathletes in the world getting the victory in the IRONMAN World Championship 70.3 in his third participation in a test of this distance, achieving a total of 3 victories in 3 contested tests.
Javier, who from the beginning was always in the lead positions, came out of the swimming in first position investing 22:09 in completing the 1,9 km of route, closely followed by Jan Frodeno, Clayton Fettel and Josh Amberger.
In a cycling circuit breaks legs with ramps of the 15%, from the beginning formed a group of 11 in head with Ben Collins, Jan Frondeno, Javier Gómez Noya, Josh Amberger, Terenzo Bozzone and Tim Don among others, separated by only 21 seconds . These were interspersed in the first positions until arriving at the T2.
In the race on foot a group of 4 was formed with Jan Frondeno at the head where they managed to be placed with 30 seconds ahead of Javier Gómez Noya, but the Galician with a large sector in this segmeno managed to go up positions until reaching Frodeno in the head .
Noya continued to impose his strong pace until he achieved an advantage over the 12 '' German at km 32, positioning himself as the race leader. Javier Gómez Noya It was keeping the rent until the end of the test with a time of 03: 41: 30 getting the best partial run on foot with 1: 09: 27. In second place I enter Jan Frondeno (3: 42: 11) and completing the podium Tim Dom with a final time of 3: 44: 38.
Special mention must be made to the young person Albert Moreno who has managed to finish in the 15ª position in his first participation in an IRONMAN 70.3 World Championship.
Albert who started the race on foot with almost 30 'disadvantage and coming out in the 24 position was climbing positions until finishing in a magnificent fifteenth position with a final time of 3: 52: 06 getting the eighth fastest time in the race on foot completing the 21 km in 1: 14: 38.
In the female category the great dominator has been Daniela Ryf who has achieved victory with a time of 4: 09: 19 followed by Jodie Swallow (4: 11: 43) and of Heather Wurtele completing the podium with a final 4 time: 14: 55
Top 10 Men
| Name | Country | Time |
| --- | --- | --- |
| Gomez, Javier | ESP | 3:41:30 |
| Frodeno, Jan | DEU | 3:42:11 |
| Don, Tim | GBR | 3:44:38 |
| Sanders, Lionel | CAN | 3:46:03 |
| Frommhold, Nils | DEU | 3:46:25 |
| Gambles, Joe | AUS | 3:46:34 |
| Reed, Tim | AUS | 3:47:07 |
| Aernouts, Bart | BEL | 3:48:05 |
| Bozzone, Terenzo | NZL | 3:48:20 |
| Clarke, Will | GBR | 3:48:44 |
Top 10 Feminine
| Name | Country | Time |
| --- | --- | --- |
| Ryf, Daniela | CHE | 4:09:19 |
| Swallow, Jodie | GBR | 4:11:43 |
| Wurtele, Heather | CAN | 4:14:55 |
| Kessler, Meredith | USA | 4:16:03 |
| Ellis, Mary Beth | USA | 4:17:03 |
| Vodickova, Radka | CZE | 4:17:47 |
| Huetthaler, Lisa | TUE | 4:18:16 |
| Bazlen, Svenja | GEO | 4:18:48 |
| McBride, Rachel | CAN | 4:19:52 |
| Tisseyre, Magali | CAN | 4:20:38 |
Further information: ironman.com
Photos: reads gruenfeld