Triathlon News
Javier Gómez Noya, gets his 80 number podium as elite in ITU tests
With the second podium of the season is already fourth in the World Ranking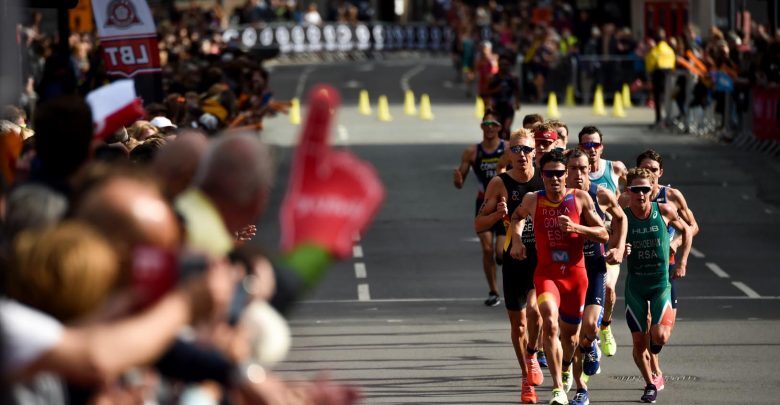 The Galician triathlete, with his third place in the Leeds Triathlon World Series, has added its 80th podium in ITU tests throughout his sporting career.
With the ogoal of getting the pass for the Tokyo 2020 Olympics, Noya continues to demonstrate that competing in the distance that competes is always with the best.
Yesterday, with the third best time of the foot race, he got his second podium of the season, going up to the fourth position of the Ranking With 3 races, 1 fewer than his direct rivals, and with all the options to reach the Laussane Grand Final to try to fight for what would be his sixth ITU Triathlon world title.
These are the podiums that he has achieved in ITU tests to date in elite category 80 in total, where 40 of them have been in World Triathlon Series.
Although he told us in a teet that he had to add one to the 80, so there would be 81 races in which he has made a podium
@triatlonnoticia thanks for the work! I really already have 100, in 2005 I made second in Palermo although they eliminated me from the classification…

- Javi Gomez Noya (@Jgomeznoya) April 9 2015
List of ITU podiums Javier Gómez Noya
| | |
| --- | --- |
| Line | Test |
| 3 | 2019 AJ Bell World Triathlon Leeds |
| 1 | 2019 Pontevedra ITU Long Distance Triathlon World Championships |
| 2 | 2019 MS Amlin World Triathlon Bermuda |
| 1 | 2017 ITU World Triathlon Montréal |
| 1 | 2017 ITU World Triathlon Abu Dhabi |
| 1 | 2016 Lisbon ETU Triathlon European Championships |
| 2 | 2015 ITU World Triathlon Grand Final Chicago |
| 2 | 2015 ITU World Triathlon Edmonton |
| 1 | 2015 ITU World Triathlon Stockholm |
| 1 | 2015 Rio de Janeiro ITU World Olympic Qualification Event |
| 2 | 2015 ITU World Triathlon Hamburg |
| 1 | 2015 ITU World Triathlon Yokohama |
| 2 | 2015 ITU World Triathlon Cape Town |
| 3 | 2015 ITU World Triathlon Gold Coast |
| 2 | 2015 ITU World Triathlon Auckland |
| 3 | 2014 ITU World Triathlon Grand Final Edmonton |
| 1 | 2014 ITU World Triathlon Chicago |
| 1 | 2014 ITU World Triathlon Yokohama |
| 1 | 2014 ITU World Triathlon Cape Town |
| 1 | 2014 ITU World Triathlon Auckland |
| 2 | 2014 New Plymouth ITU Triathlon World Cup |
| 1 | 2013 Cozumel ITU Triathlon World Cup |
| 1 | 2013 ITU World Triathlon Grand Final London |
| 2 | 2013 ITU World Triathlon Stockholm |
| 3 | 2013 ITU World Triathlon Hamburg |
| 2 | 2013 ITU World Triathlon Madrid |
| 1 | 2013 Barcelona ETU Challenge Middle Distance Triathlon European Championships |
| 2 | 2013 ITU World Triathlon Yokohama |
| 1 | 2013 ITU World Triathlon Auckland |
| 1 | 2013 Mooloolaba ITU Triathlon World Cup |
| 1 | 2012 Barfoot and Thompson World Triathlon Grand Final Auckland |
| 2 | 2012 ITU World Triathlon Yokohama |
| 2 | 2012 ITU World Triathlon Stockholm |
| 2 | 2012 London Olympic Games |
| 2 | 2012 Dextro Energy World Triathlon Hamburg |
| 3 | 2012 ITU World Triathlon Kitzbuehel |
| 1 | 2012 Eilat ETU Triathlon European Championships |
| 2 | 2011 Lausanne ITU Elite Sprint Triathlon World Championships |
| 1 | 2011 Banyoles ITU Triathlon Premium European Cup |
| 3 | 2011 Dextro Energy Triathlon - ITU World Championship Series Madrid |
| 1 | 2011 Dextro Energy Triathlon - ITU World Championship Series Sydney |
| 1 | 2010 Huatulco ITU Triathlon World Cup |
| 2 | 2010 Dextro Energy Triathlon - ITU Triathlon World Championship Grand Final Budapest |
| 2 | 2010 Dextro Energy Triathlon - ITU World Championship Series Kitzbuehel |
| 1 | 2010 Dextro Energy Triathlon - ITU World Championship Series London |
| 1 | 2010 Dextro Energy Triathlon - ITU World Championship Series Hamburg |
| 2 | 2010 Athlone ETU Triathlon European Championships |
| 1 | 2010 Pontevedra ITU Triathlon Premium European Cup |
| 2 | 2009 Dextro Energy Triathlon - ITU World Championship Grand Final Gold Coast |
| 3 | 2009 Dextro Energy Triathlon - ITU World Championship Series Yokohama |
| 2 | 2009 Dextro Energy Triathlon - ITU World Championship Series Kitzbuehel |
| 1 | 2009 Holten ETU Triathlon European Championships |
| 2 | 2009 Dextro Energy Triathlon - ITU World Championship Series Washington, DC |
| 3 | 2009 Dextro Energy Triathlon - ITU World Championship Series Madrid |
| 2 | 2009 Pontevedra ITU Triathlon Premium European Cup |
| 1 | 2008 Tiszaujvaros BG Triathlon World Cup |
| 1 | 2008 Vancouver BG Triathlon World Championships |
| 1 | 2008 Madrid BG Triathlon World Cup |
| 1 | 2008 Pontevedra ITU Triathlon Premium European Cup |
| 1 | 2008 New Plymouth BG Triathlon World Cup |
| 1 | 2008 Mooloolaba BG Triathlon World Cup |
| 1 | 2008 Bloemfontein ITU Triathlon African Cup |
| 1 | 2007 Beijing BG Triathlon World Cup |
| 2 | 2007 Hamburg BG Triathlon World Championships |
| 1 | 2007 Tiszaujvaros BG Triathlon World Cup |
| 1 | 2007 Salford BG Triathlon World Cup |
| 1 | 2007 Copenhagen ETU Triathlon European Championships |
| 3 | 2007 Des Moines BG Triathlon World Cup |
| 2 | 2007 Madrid BG Triathlon World Cup |
| 1 | 2007 Lisbon BG Triathlon World Cup |
| 2 | 2007 Mooloolaba BG Triathlon World Cup |
| 1 | 2006 Cancun BG Triathlon World Cup |
| 2 | 2006 Beijing BG Triathlon World Cup |
| 1 | 2006 Hamburg BG Triathlon World Cup |
| 3 | 2006 Corner Brook BG Triathlon World Cup |
| 1 | 2006 Madrid BG Triathlon World Cup |
| 1 | 2006 Estoril ITU Triathlon European Cup |
| 2 | 2006 Aqaba ITU Triathlon World Cup |
| 1 | 2005 Lough Neagh ITU Triathlon European Cup |
| 1 | 2004 Bloemfontein ITU Triathlon African Cup |