Javier Gómez Noya fourth in the French Grand Prix of Châteauroux
The victory has been for Dorian Coninx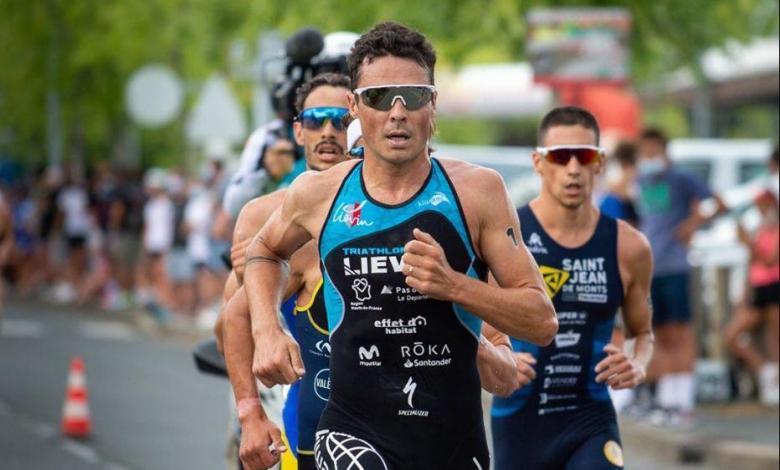 Today the French town of Châteauroux took place the French Grand Prix which has had the presence of several Spanish triathletes.
Javier Gómez Noya, Mario Mola have been our representatives in the test in category D1
The category test has been contested under sprint distance (750-20-5), started at 15:30 with the 750 meter swim where the first to come out of the water was Aurelien Raphael followed 4 seconds by Antoine Duval and 5 seconds by Alois Knabl.
Noya started in 10th position at 11 seconds while Mola was 16th at 23 seconds.
In the very intense first 4 kilometers of the cycling segment, a group of 10 units was formed with Noya, Le Corre, Duval. Mola was 10 seconds behind to join the chasing group in the second round, which was close to 30 seconds.
The group of 9 units remained united until reaching T2, which arrived with a 33-second advantage over the group of Mario Mola and Gustav Iden.
In the race on foot, little by little the group broke up to go through the first lap (km 2,5) with a quartet with Noya, Leo Bergere, Gianluca Potazzi and Pierre Le running in the lead. Cool at this point he passed in 15th position at 56 seconds.
Finally, the victory went to Dorian Coninx with a time of 51:55 followed by Leo Bergere and by Kristian Blummenfelt 2 seconds away, in an exciting sprint.
Javier Gómez Noya has been fourth (52:10) and Mario Mola (53:37) has been 20th
Mola commented on his networks: » First triathlon of the year, grateful for the possibility of competing even though I am far from my best version. » and Javi Noya commented:
«Enjoying competing again! At the French Grand Prix, where the team came in second.
Decent swimming, a lot of work on the bike to keep up the break and happy with my run on tired legs.
As you know, I am not a big fan of sprint racing but I am happy because I finished 4th in the individual classification with many of the best in the world.
For Rotterdam now for the Superleague»
https://www.instagram.com/p/CEMwOoah2uB/?utm_source=ig_web_copy_link
Male classification
| | | |
| --- | --- | --- |
| First Name | ahead Club | Time |
| CONINX DORIAN | POISSY TRIATHLON | 00:51:55 |
| BERGERE LEO | ST JEAN-DE-MONTS-VENDEE T .. | 00:51:57 |
| BLUMMENFELT KRISTIAN | VALENCE TRIATHLON | 00:51:57 |
| GOMEZ NOYA JAVIER | LIEVIN TRIATHLON CLUB | 00:52:10 |
| POZZATI GIANLUCA | MONTLUCON TRIATHLON | 00:52:19 |
| PIERRE RUNS HIM | MONTPELLIER TRIATHLON | 00:52:23 |
| GEENS JELLE | LES SABLES VENDEE TRIATHL .. | 00:52:25 |
| IDEN GUSTAV | VALENCE TRIATHLON | 00:52:33 |
| RICHARD TOM | POISSY TRIATHLON | 00:52:41 |
| RAPHAEL AURELIEN | POISSY TRIATHLON | 00:52:48 |
| MOLA DIAZ MARIO | ST JEAN-DE-MONTS-VENDEE T .. | 00:53:37 |
Emilie Morier takes the women's test
In the women's event, we were represented by Carolina Routier and Marta Sánchez where the victory was for Emilie Morier with a time of 58:32. The second classified has been Mathilde Gautier (58:41) and third Zsannet Bragmayer (58: 12).
Carolina Routier It was the first Spanish to finish in seventh position in the event and 6th in its category. Marta Sanchez It has been 19th
Female classification
| | | |
| --- | --- | --- |
| First Name | ahead Club | Time |
| MORIER EMILIE | ISSY TRIATHLON | 00:58:32 |
| GAUTIER MATHILDE | TRI VAL DE GRAY | 00:58:41 |
| BRAGMAYER ZSANETT | METZ TRIATHLON | 00:58:52 |
| VAN COEVORDEN NATALIE | POISSY TRIATHLON | 00:58:55 |
| PERIAULT LEONIE | POISSY TRIATHLON | 00:59:05 |
| ROUTIER CAROLINA | ISSY TRIATHLON | 00:59:26 |
| LENA MEISSNER | TRI VAL DE GRAY | 00:59:35 |
| GARABEDIAN MARGOT | METZ TRIATHLON | 00:59:50 |
| DODET SANDRA | POISSY TRIATHLON | 00:59:59 |
| CONINX READ | METZ TRIATHLON | 01:00:01 |