Javier Gómez Noya dismisses the season with a victory in Dallas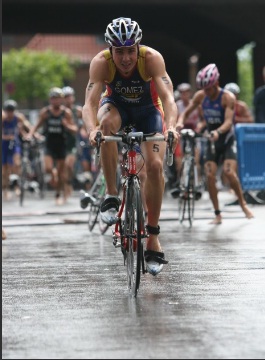 Javier Gómez Noya has achieved in Dallas - the final date of the prestigious and well-endowed professional circuit in USA awards - a sensational victory against the triathletes who follow that championship, different from those of the World Series of the International Federation. With this, Javi once again shows his tremendous level, since although the distance has been the Olympic one, it differs in that in the cycling section it is not possible to go in the peloton, something to which he is not very used in competition.
He came out of the water second to Andy Potts (in his usual day at the World Cup and now dedicated to longer distance triathlons) and it was not long before he left behind in cycling. But later he was surpassed by Cameron Dye, someone with a high level in cycling who was playing the final classification of the circuit. Javi held the 2nd place until the end of the cycling, which he did on a Specialized Shiv that the brand had left him right there and that he had to adjust to his measurements on the eve of the competition.
On foot it did not take me long to overcome Cameron Dye, scoring by far the best partial in the third phase, taking 45 seconds to finish Australian Greg Bennet (a great friend of Javi, who invites him to his house when the Spaniard concentrates in Australia ) who also beat Dye to take 2nd place. Fourth was the leader in the Potts swimming, a result that earned him the championship.
"I have been phenomenal throughout the triathlon; I have adapted very well to the bike that they have left me here since I have one like it at home. After getting off second it was clear that I could overtake Dye and I ran almost as fast as when riding the bike in a peloton. After China and the Spanish Championship in Vigo, I have not trained much because I have had to attend to commitments with the press and sponsors. For this reason I have arrived fresh despite the trip and wanting to give it my all in the last competition of 2011. Now a week awaits me in Hawaii watching the Ironman invited by Specialized, which makes me feel like a child on Three Kings night; and then another week in California visiting the brand's headquarters, another appointment that makes me excited given how much I like their bikes ".