Triathlon News
Javier Gómez Noya the fastest in the 4 Picos Road
It is a 121 kilometer cyclotourist race where he has competed with his partner, Pablo Dapena, Tamara Gómez and Vicente Hernández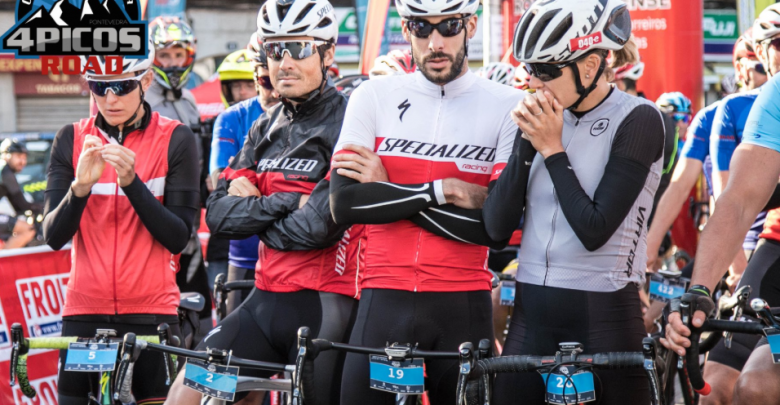 Today the third edition of a cyclist tour in Pontevedra, the 4 Peaks Road 'Classical Evaristo Portela' where more than a thousand people with Javier Gómez Noya, Pablo Dapena, Vicente Hernández, Tamara Gómez or the couple of Noya Aneke Jenkins. In addition to Oscar Pereiro, champion of the Tour de France, has also participated
All of them faced a route in which their complete option contemplated 121 kilometers and to 2.617 meters of accumulated positive slope with ascents to Lake Castiñeiras, Mirador de Morañó, Monte Acibal and Monte Castrove before concluding at the same place of departure, Avenida Montero Ríos de Pontevedra.
Javier Gómez Noya has done with the best time in the test investing a time of 2: 18: 44 followed by Eduardo Tajes (2: 19: 17) and for Pablo Dapena (2: 19: 20)
Anneke Jenkis has been the best woman with a 2 time: 27: 47 followed by Ines Cima (2: 38: 48) and for Bibiana Rodríguez (2:43:16). Both Vicente Hernández and Tamara Gómez have not finished the test.

The Noya Data on the 4 Peaks Road
The total time invested in completing the course has been 02: 18: 44,16 at an average speed of 35,46Km / h
The inert time in doing the climb to Escusa has been 00: 19: 00,05 at an average speed of 21,78Km / h
The position obtained in the Ato de A Escusa, has been the 1 of a total of 372 Masculina
By the port of Acibal, you have passed with a time of 01: 30: 47,64 passing in the 3 post
For the control of Pontevedra, you have passed with a time of 01: 47: 31,17 passing in the 5 position
The general final position obtained has been the 1 of a total of 381.
In Men category the position has been 1 of a total of 372 classified
Javier Gómez Noya and Pablo Dapena, getting ready for the IRONMAN 70.3 European Championship
The two Galicians, who will be at the starting line next weekend of IRONMAN 70.3 Elsionre, They are finalizing their preparation for this test where Eneko Llanos and Anna Noguera will also participate.