Javier Gómez Noya wins Alistair Brownlee in the Hy-Vee Triathlon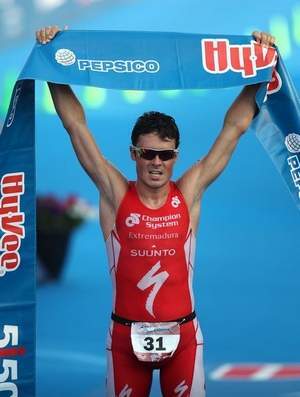 This Sunday the Hy-Vee triathlon (USA) was held, where Noya and Alistair met again after the London Olympics
This time Javier Gómez Noya prevailed and won with authority with a total time of 01:51:21 followed almost 40 seconds by the American Hunter Kemper with a time of 01:51:59 and the Australian Greb Bennet in third position finishing with a final time of 01:52:46.
Noya set the best time in swimming with 18:17 and in the race with 32:32. The British Alistair Brownlee he was always paired with Noya until he started the running sector, where he did not have his best day since he obtained a mark of 39:14 in the 10 km finishing in 14th position with a final time of 01:58:05
Alistair commented at the end of the race. "I felt very tired from the start. I thought it would be fine but it was not my day, I've found myself very bad. "
With this victory Javier pockets the amount of $172,100 and commented: "I can't believe I won this race, I have never had the feeling that I was running so fast. It was a really hard day". On social media he comments: "Very hard race because of heat today! But I managed to perform well, thanks for the support everyone! Tonight I'll pay for the beers ???? An honor to share podium with2 legends @GregBennett1 and @hunterkemper "
Results:
http://edge.raceresults360.com/hyvee/EMI7e/results#/results:&sort_col=RUN&sort_dir=ASC:1346652185777
TN