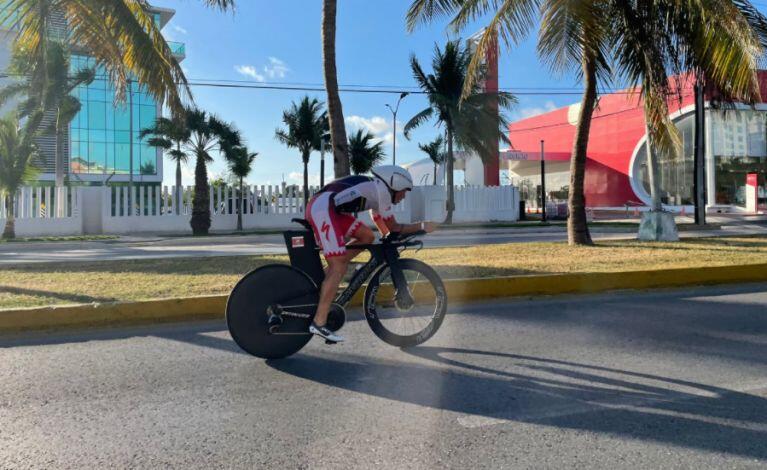 Today Mexico has played the second edition of the Challenge Cancun, prove that Javier Gómez Noya chose to debut this 2021.
Noya, who has been training in Mexico for a few weeks, has chosen the area because of the similarities in the climate that will be found at the Tokyo Games.
In addition to Noya, the Spanish have participated Saleta Castro, Víctor Benages, David Castro and Javi's partner, Anneke Jenkins
Male test
The test that has been held in medium distance format, has had some well-known names in the world of triathlon such as Patrick Nilson, Andy Potts, winner in 2019, Michael Weiss or Ruedi Wild among others.
The test began at 06:30 local time with the 1.900 meter swim where the first to get out of the water was Víctor Benages followed closely by David Castro and Javier Gómez Noya. Overtaking the rest of the triathletes who started very far apart by about 1 minute.
In the first kilometers of the cycling segment, Andy Potts, who left the water behind, climbed several positions and was placed as the leader, passing through kilometer 16 with 1 minute ahead of Noya, Joaquín Pereda and Víctor Benages.
Shortly thereafter, Potts suffered a bicycle breakdown that made him lose time and gave Noya first place. After this incident, the North American little by little went back to time and was placed at the head of the race at kilometer 67 of the cycling segment.
The duo continued together for the rest of the segment to reach T2 with Potts first but followed by Noya at 3 seconds and leading Ruedi Wild by almost 3 minutes, Eliot Bach by 3:33 and Pereda and Weiss by 5.
First off the bike is @Andy_Potts, But @Jgomeznoya didn't give him too much space in the last bike kms, as he follows in only 3s !! @challengecancun #wearetriathlon #challengefamily #allabouttheathlete pic.twitter.com/0pyW1MrSgX

- Challenge Family (@Challenge_Famil) May 2, 2017
In the first kilometers, 3 kilometers of the running race, Noya went ahead, leading Potss by 20 seconds. At this point Wild passed to 2:50 of the Spanish.
When Noya passed kilometer 7, he was already ahead of Potss by more than 1 minute and Willd by 2, who was coming from behind cutting time and fighting for second place.
At kilometer 14 Javi continued to increase his advantage passing with 3 minutes over Potts, Wild who were already running together.
Finally, Javier Gómez Noya he got the victory in the test with a time of 03:46:36 followed in second position and after a nice fight he arrived Ruedi Game (3:50:37) second followed by Ruedi (3: 51: 13) in third position.
Classification
| | |
| --- | --- |
| NAME | OFFICIAL TIME |
| Javier GOMEZ | 03:46:36.5 |
| Ruedi WILD | 03:50:37.1 |
| Andy POTTS | 03:51:13.3 |
| Michael WEISS | 03:54:20.1 |
| Tyler BUTTERFIELD | 03:57:21.9 |
The times of Noya
These have been the times of Javier Gómez Noya in the test:
Swimming, 1.900 meters: 24:46, average of 1: 18 / 100m
Biking, 90 km: 2:02:12, average 44,19 km / h
Carrera walking, 21 km: 1:14:39. 3: 32 min / km average
Female test
In the women's event, Anneke Jenkins has been the strongest dominating in swimming and cycling although she has retired in the running race.
She was the first to get out of the water, along with Annie Kelly and Romina Palacio.
In the 90 kilometers of the cycling segment, he left alone, reaching T2 with a 1 minute advantage over Kelly and Palacio, who arrived together at the transition. Palmira Álvarez and Kate Vermain were more than 4 minutes ahead of the race.
At the beginning of the foot race sector, Anneke withdrew from competition due to injury, leaving the fight for victory behind.
For their part, Romina and Annie marched together until the 3rd lap where Palacio left alone for victory.
Finally, Romina Palace has achieved victory with a time of 4:34:32, followed by Annie kelly (4: 38: 32) and for Palmira Álvarez (4: 41: 17) in third position.
He also participated in the test Saleta Castro, who came out of the water eighth and reached T2 in the same position and finally reached the finish line in a great fifth position with a time of 04:45:43
Price drop on Amazon
58,99€
1 New From 58,99 €

Amazon.com
213,21€
1 New From 213,21 €
17 Used From 173,76 €

Amazon.com
More discounts