Triathlon News
Javier Gómez Noya second in the World Series of Bermuda
The victory has been for Dorian Conix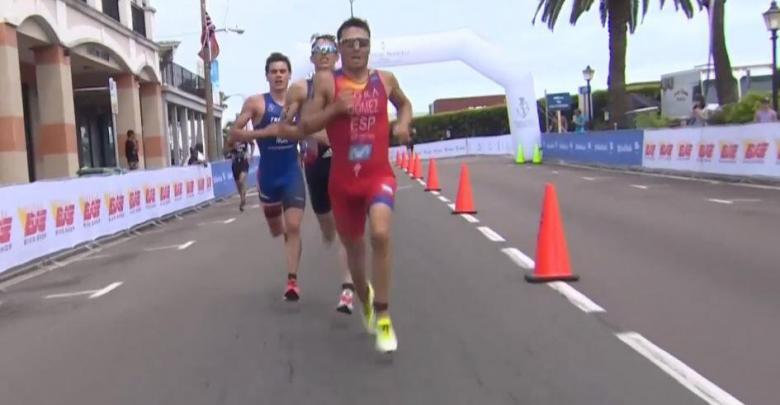 The Galician triathlete has returned to the competition in the best possible way, with a second place that knows victory. With this position, Javi shows that he is coming strong this season to the WTS and warns his opponents that he will have to be taken into account in the next races.
Today was the second round of the Triathlon World Series, in Bermuda, where everyone was waiting for the return of Javier Gómez Noya to the WTS after focusing on the IRONMAN competition during the 2018
Mario Mola, winner in Abu Dhabi, left with the number 1 in search of his second victory to continue strengthening the leadership in the search of his fourth consecutive world.
The test began at 18: 08 with the 1,5 km of swimming, where the fastest out of the water was Vicent Luis with Alois Knabl leading the group that came out very compact with 19 units in 15 seconds. Noya was the first Spaniard coming out the 17 to 13 seconds from the head. Mario Mola went to 1: 12 from the head
In the cycling segment, we saw attacks from the beginning where Jonathan Brownlee tried to leave alone, although a group of 17 units were unified where the main favorites were, Mola who was left behind.
Arriving at the T2, Jonas Schomburg was the first to arrive with 34 seconds ahead of the group of 29 units where Noya, Hernández, Alarza and Serrat arrived at 42 seconds and Mola at 2: 57.
In the 10 kilometers of running we saw an exciting race, where Vicent Luis and Jonathan Brownle tried to make a quick race, Noya and Antonio Serrat, although they left the T2 with some delay they were slowly recovering the difference to unify a group of 7 with Gustav Iden, Kristian Blummenfelt, Joao Pereira or Henri Schoeman.
This group was leaving units to go through the 7 km of route with 22 seconds on the persecuting group led by Fernando Alarza.
Javi was at the head of the race, to impose his pace by making changes in the hardest parts of the circuit to wear out his competitors. In the last lap with different changes of pace they made Luis stay behind leaving the fight for the medals to Noya, Conix and Iden.
Finally the victory has been for Dorian Conix in a time of 1: 50: 36 followed by Javier Gómez Noya (1: 50: 38) and for Gustav Iden (1: 50: 38).
Fernando Alarza it has been ninth, Antonio Serrat 20º, Mario Mola 26º and Vicente Hernández 40º.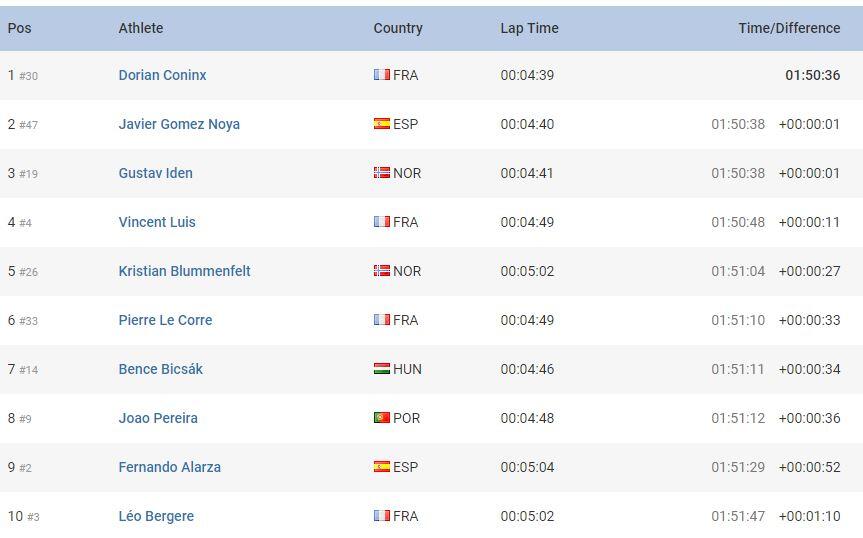 You may also be interested in this