Triathlon News
Javier Gómez Noya, Iván Raña and Mario Mola awarded at the annual COE gala
Noya and Raña have received the Olympic order, and Mola the prize for the outstanding athlete 2019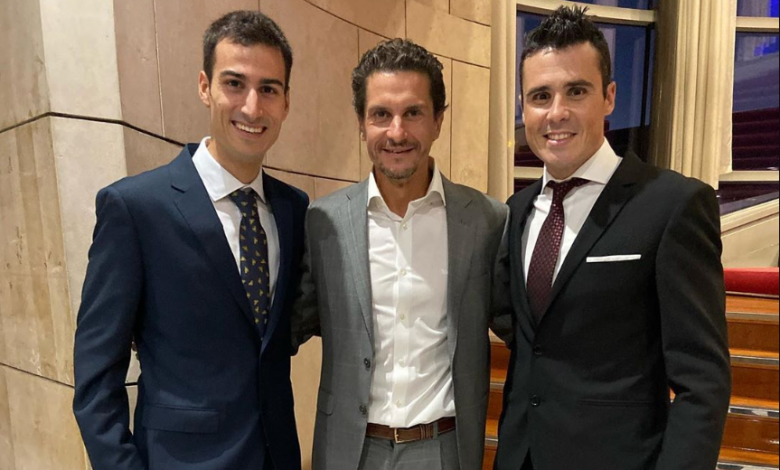 El Spanish Olympic Committee (COE) recognized this Wednesday different athletes, former sportsmen, clubs, federations and companies in the XIV edition of the Annual Gala.
World champions Javier Gómez Noya and Iván Raña, Olympic order
several athletes have received the Olympic order this 2019, Jesus Carballo, Javier Gómez Noya, Joel Gonzalez, Maialen Chourraut, Teresa Perales, María José Rienda, Erika Villaecija e Ivan Raña have been awarded the Olympic Order this 2019.
Mario Mola, among the athletes featured in 2019
Among the other athletes recognized by the COE as the most outstanding in 2019 were the synchronized swimmer Ona carbonell, temporarily retired with 23 World Cup medals, the world motorcycling champion Ana Carrasco and the triple triathlon world champions Mario Mola and shooting Alberto Fernández
«Javier Gómez Noya commented on his social networks:»
It is an honor to receive the Olympic Order from the Spanish Olympic Committee. And, more importantly, share prizes with these legends
Mario Mola, for his part said
«Great night at the home of the Spanish Olympic Sport and very grateful for the award.»
Iván Raña commented:
«Yesterday we enjoyed an afternoon to remember in the Spanish Olympic Committee. Receive the Olympic Order from the @coe_es with friends like @jgomeznoya y @mariomola not every day.
Thanks to the friends who came to see him in person. I have to remember my family, many people who are behind the athletes helping daily, sponsors and two people who supported me in my early days: César Varela, my first coach who marked my sports life. And José Luis Torrado, to whom I will take this medal because without him I would not be here »
This is the list of winners at the COE 2019 gala
LIST OF AWARDS
- Olympic Order
Jesus Carballo
Javier Gómez Noya
Joel Gonzalez
Maialen Chourraut
Teresa Perales
María José Rienda
Erika Villaécija
Ivan Raña
Juan Antonio Samaranch
- Special COE Award "Juan Antonio Samaranch"
Extremadura joint
Ministry of Defence
- COE Recognition Award «Juan Manuel Gozalo»
Natalia Arriaga (EFE Agency)
Gerardo Riquelme (Brand)
- Olympic Plates for Sports Merit
Spanish Boxing Federation
Spanish Federation of Ice Sports
Spanish Weightlifting Federation
Spanish Equestrian Federation
Spanish Aeronautical Federation
Spanish Chess Federation
Spanish Federation of Water Skiing and Wakeboarding
Spanish Federation of Motonautics
Spanish Basketball Federation (Special Mention)
Spanish Motorcyclist Federation (Special Mention)
Spanish Skating Federation (Special Mention)
Spanish Canoeing Federation (Special Mention)
Murcia 1919 Tennis Club
Grup Excursionista I Esportiu Gironí (GEIEG)
Madrid City Council
- COE Award to collaborating entity
- COE Olympic Values ​​Award
Miriam Blasco
Fernando Echávarri
Alejandra Quereda
Fernando Rivas
Ignacio Sola
Miguel Garcia
Marisol Married
José Perurena
José Luis Mendoza (UCAM)
Miguel Induráin
- Celia Barquín Award
- Featured athletes
Ona carbonell
Ana Carrasco
Alberto Fernández
Mario Mola