Javier Gómez Noya «There comes a point in your sports career where you have to do what your body asks and what you want»
"I will resume the long distance and what I have left in the race, after Tokyo"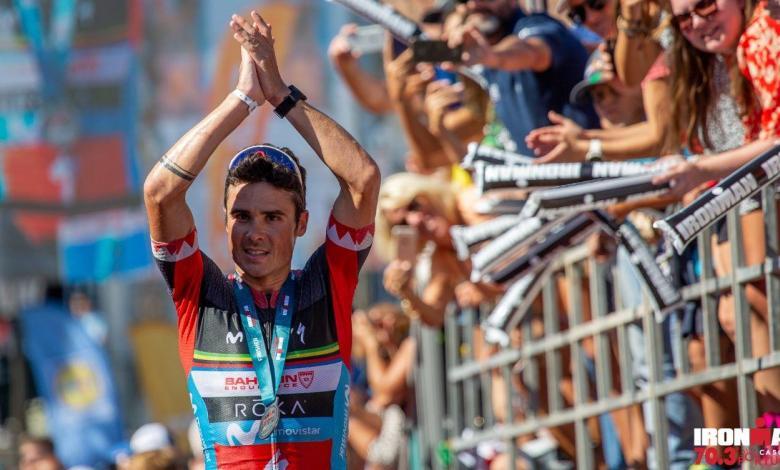 Javier Gómez Noya He is now in New Zealand recovering from the long season, where he has returned to the World Series competition.
Although its objective was to focus on the WTS, has participated in all kinds of competitions and distances, getting get on the podium at all distances.
In 2019 it has been third in the WTS Ranking, Has won his first IRONMAN, getting its slot for Kona 2020 and has also achieved the victory at the IM 70.3 Cascais, also obtaining the pass for the 2020 World Championship.
In an interview with sports world, Noya commented:
Sí, I've been two more varied years, in which I've done a little of everything. There comes a point in your sports career when you have to do what your body asks and what you want. Maybe at some point I should have prepared a career more specifically, but I wanted to do what I wanted, and in the end the results have been good.
It will focus on the Olympic distance until July
Now I am going to devote myself to preparing the Olympic distance, without mixing other things, at least until July.
I enjoyed my return to the short distance, especially in the Olympic distance tests, I felt competitive and able to be in the fight, although at the end of the season I suffered a couple of falls and I finished something touched.
In the Olympic World Cup I finished third, the 70.3 did not go as I would have liked, but in general I make a positive balance.
Looking forward to next season, in which I'm going to focus on the short distance and try to raise a little point for himbequeath the best possible to Tokyo.
Is Tokyo the big goal?
Yes, now it's time to disconnect a little and rest, but the head is already planning how to prepare the training cycles with a clear objective, the Tokyo Games.
Do you have a thorn stuck after missing those of Rio due to injury?
It was a huge disappointment to break my elbow a few weeks after the Games, but I don't think much.
You can fall again and the same thing can happen to you, you never know that. I prefer not to think about that and look to the future, I look forward to preparing for Tokyo and I hope to do my best.
Tokyo seemed far away, next summer it will be 37 years old and now it seems it arrives to spare
Not enough, but age is very relative, if you take care of yourself and respect your injuries, you can perform well at quite advanced ages, many people have shown, such as Alejandro Valverde or the most extreme case of Garcia Bragado
The important thing is motivation, this is a sport of resistance, and although with age some speed is lost, we are competing in races of almost two hours. There are 400 smooth meters, but I still find myself in my rhythms And that's the most important.
Who are your main rivals for gold?
The fact of being a one-day test makes the forecast very open, it has already been seen this year that few people have repeated podium in the World Cup races, because the level is very high.
There are many candidates for victory, since it is a one-day race, in which it will also be very hot and we will compete in extreme conditions. Mario Mola y Fernando Alarza They have been showing for years that they are among the best and are favorites, as are Vincent Luis, Henri Schoeman o Jacob Birtwhistle, but I could name up to ten or fifteen that they could win and I wouldn't be surprised if they did.
Should they prepare specifically to cope with the heat?
It must be taken into account, because it will be similar to what we have seen in Doha.
There will be make concentrations in calor, similar to those conditions, but without stressing the body too much, because if you are training for four months in heat you end up destroying your body and eliminate yourself.
Yes we have to make a good acclimatization and to think that the race with those conditions will be harder and slower, we will see who carries those types of conditions better.
Is Olympic gold the great challenge that remains to be met?
It is the goal, this year my goal and that of many other triathletes will be gold.
I want gold, but it doesn't obsess me, you cannot train thinking that it is only worth winning, you should think about getting the best out of yourself. Get to the race, give everything, do not make mistakes, which is not easy, and the race puts you in your place.
But you have to go with Positive mentality, thought you can win. I am the first to believe that I can win, because if I don't believe it, then I'm sure I won't win.
And after the Games? Ironman target again?
Yes, I will resume the long distance and what I have left and I can prepare it specifically.
I already have the place to return to Hawaii, I was last year, it was my first experience, I learned a lot and that learning will help me to be more effective and get better next time