Javier Gómez Noya will participate this weekend Spanish Triathlon Championship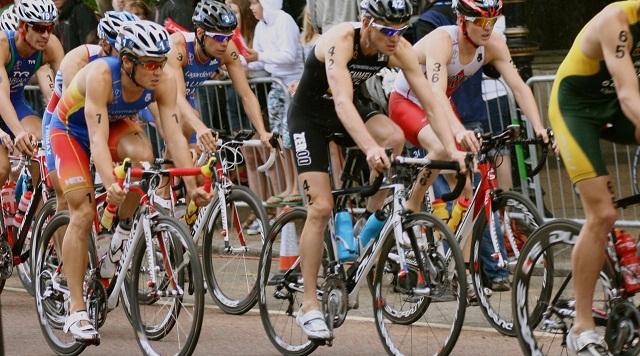 Countdown to the start of the XVIII Spanish Triathlon Championship, which will take place this weekend in Samil and its surroundings. Luis Piña from Vigo, technical director of the Galician Federation, is delighted with the layout designed for this event, which from the FGT is considered "ideal" in all aspects, but especially for the public, who will enjoy Javier Gómez Noya from Ferrol and the best triathletes in the national and regional ranking.
Piña also discovers that with Samil a federative wish that has been requested for a long time is fulfilled. "We had been thinking about Samil for years because of his benefits. In a circuit we look for it to be safe and spectacular and this meets both requirements. The Local Police make it viable in terms of security and taking it to Samil is very attractive because from the same point the spectator can follow the three disciplines", that is, the swimming test, the cyclist and the race on foot.
Technically, the design is not going to be easy for triathletes. Vigo's sandy area "is not one of the most difficult beaches for swimming, but it all depends on the conditions of the currents that day. The bike test will be demanding as determined by the pace of the race, but it will be hard because having to do eight laps from Samil to Coia, the climb up Avenida de Europa ends up punishing. The race on foot, on the flat, will be very fast ", he underlines.
Last weekend the Galician Championship was played, so the community representation comes at the perfect time. "Gómez Noya is above the rest, but there are many Galicians with options. To name a few, Antón Ruanova or Jesús Gomar (Galician champion) in elite or in women Saleta Castro or Estefanía Domínguez from Pontevedra will opt for second or third place, which are very open, "he says. Gold seems predestined to the Basque Ainhoa ​​Murua.
Vigo's hope will be Antonio Serrat, from the Mar de Vigo Triathlon Club, who has already been the Spanish duathlon cadet champion and also silver in the Spanish School Triathlon Championship. Also the former athlete from Vigo Susana Rodríguez Garcio in paratriathlon will be another of the assets for the sport in the city this weekend.
Last year in Pulpí (Almería), Galicia won five individual and six club medals. In addition, after the calculation of the results, Cidade de Lugo Fluvial was proclaimed champion of the Spanish ranking of clubs in the male and female categories.
Source: farodevigo.es