Triathlon News
Javier Gómez Noya Plata in the World Series of Yokohama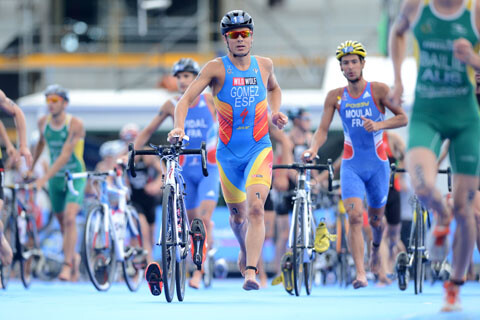 The Japanese town of Yokohama received the third round of ITU Triathlon World Series. On a day marked by rain and a very technical circuit and at times dangerous, a splendid Javier Gómez Noya the silver medal after starring in an intense duel with the British Jonathan Brownlee and in third position the Portuguese Silva which continues to command the ranking of the ITU 2013 World Series
The initial stretch of swimming was carried out at a surprising pace, with more than twenty participants moving down from the 18 minutes in a fast-paced segment, with Javier Gómez Noya standing in the lead group.
After the departure of T1, a group of eight composed of Gomez Noya, Brownlee, Ivan Vasiliev, Marco Van der Stel, Henri Schoeman, Andrew McCartney and Benjamin Shaw, dominated the 40 km cyclists. All of them would enter the second transition with a comfortable advantage of one minute and 30 seconds over the pursuit squad.
Then the running segment would be decisive, with the Galician and the British leaving out the rest of the contestants in the first stages of the sector. From there, both would lead the competition marking a very strong pace, in a section in which both would establish large records going down from the 30 minutes. However, on his return to the competition after several months injured, the Yorkshire triathlete left Gomez Noya in the second of four laps to start the last kilometers alone and get the victory with 24 seconds ahead.
For its part, the Ferrolano fought until the end, offering a great display to finally get the silver medal. From behind in third position came the Luso Silva and continues to command the ranking of the ITU 2013 World Series, with 2055. Behind him, Javier Gómez Noya rises to second place with 2004 points, while Mario Mola (absent from Yokohama's appointment) occupies third place with 1326 points.
After the test, Javier Gómez Noya stated that it had been a "tough race but at least it wasn't cold, the circuit was quite dangerous and we had to be careful in every corner. I felt much better than in San Diego, I returned to find my level but Jonny (Brownlee) was very fast in the race on foot, and my legs were a little loaded after all the rain and the hard work on the bike. " Still, the Galician was happy at this start of the season "I was first in Auckland and second here, it's a pretty good start."
In the women's category the victory went to the American Gwen Jorgensen. The American was accompanied on the podium by Australian Emma Moffatt and British Jodie Stimpson; second and third respectively.
Madrid will be in charge of hosting the next event of the circuit next June 1 and 2, with the Casa de Campo as a luxury setting.
Classifications:
FETRI