Javier Gómez Noya and Rafa Nadal share training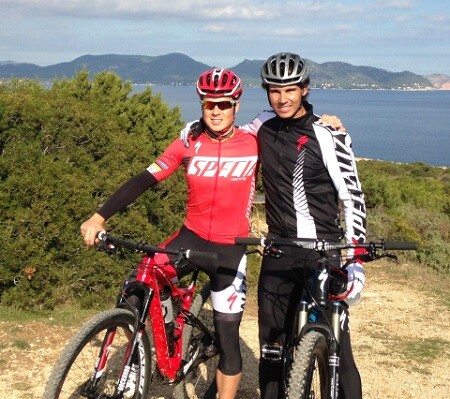 Rafa Nadal y Javier Gómez Noya, current global numbers one of the tennis and triathlon respectively, pedaled together for Mallorca during the morning of last Tuesday, completing a mountain route in which the Mallorcan tennis player surprised everyone by his ease with the Camber FSR 29, and is that Nadal has been using the bike as part of their training since his last knee injury, in which recovery cycling has played a very important role, as told by his physical trainer, Rafel Maymó, who also participated in the start.
El Triathlon World Champion (for the third time in 2013) and Silver Medal at the Olympic Games From london, took advantage of his experience in the mountains (Galician was also XTerra World Champion in 2012) to show some tricks to the current ATP ranking leader, who showed his champion caste by making everyone present sweat.
Nadal and Gómez Noya did not know each other and enjoyed the departure. At the end, both rushed to post photos on their social networks, where Rafa even changed his cover photo, while Javi declared his companion route: "How is this guy cycling?"
The meeting in which Miguel Rojo, General Director of Specialized Spain, also participated, marked the beginning of the preseason training of Rafa Nadal, that the next December 27 will play its first match in an exhibition tournament in Abu Dhabi, to then participate in the Australian Open 2014, his first Grand Slam year.
Meanwhile Javier Gómez Noya will continue his pre-season training in Fuerteventura, with the objective of revalidating his victory this year in the Triathlon World Series.