Jon Erguin and Yolanda Magallón Champions of Spain Winter Triathlon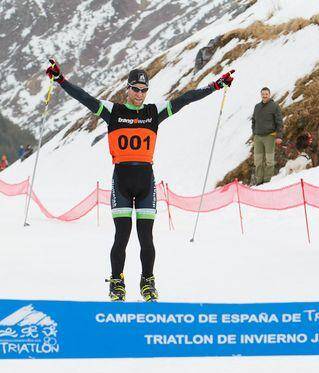 Jon Erguin and Yolanda Magallón have been proclaimed this weekend Champions of Spain of Winter Triathlon 2012, in the test that they have disputed in the Huesca town of Jaca. The clubs Saltoki Trinideak in men and CTDiablillos de Rivas in women win the title.
At 10.45 on Saturday, January 21, the female category started, with a total of 37 triathletes, minutes later, at 11.00 in the morning, 220 male category triathletes gathered at the starting line to fight for the title of Champion of Spain of Winter Triathlon.
Jon Erguin showed his clear authority by imposing himself against his rivals, achieving a well-deserved victory with almost 5 minutes of advantage over the second classified
"The running segment is my weak point, I have tried to keep up but without going overboard and reserve my strength for the cycling segment. At this moment I have pushed to reach the leading group that we finally formed 4 triathletes, feeling good, I pulled until I was in the lead with my friend Egoitz.
Seeing that we had possibilities we made the climb at a good pace to reach the last transition. Despite the drizzle, the circuit was well cared for and has been good "" My main goals for next year are the European and World Championship, and if there is snow, I would like to compete in Reinosa, Ansó and Isaba, and some race of ski".
In the female category, Maider Gaztañaga was the first triathlete to reach the finish line, followed by Yolanda Magallón, but after a claim about Maider (not completing the fifth lap of the running segment) the first classified was eliminated, giving up the title of Champion from Spain of Winter Triathlon to Yolanda Magalló.
"I am very happy, I saw myself with the possibility of reaching the top three at the finish line, looking at the start list, I was aware that some of the favorites were missing, but there were also many people I did not know. After an injury I had, I have been practically without competing for two years, I have tried to do the best possible in the running segment, and to dose the forces in the cyclist, which is what I do best, to get to the part well. cross-country skiing, despite this I have arrived just, but finally everything went well ".
"The truth is that I do not have any objectives planned in Winter Triathlon, it depends a little on the aid to consider going to the European and even the World Cup. What I do know is that I like the Montain Bike and this year I will race the Andalucia bike RACE in pairs and perhaps later the Spanish Montain Bike Championship "
ELITE MALE CATEGORY
1st JON ERGUIN- TRIGOI TT 2:27:08
2nd EGOITZ ZALAKAIN- KRAFF ATLETICO SAN SEBASTIAN 2:32:03
3rd In the test- JEAN CLAUDE CARRERE-FRA 2:36:30
ELITE FEMALE CATEGORY
1st YOLANDA MAGALLON- MAYENCOS BRICO JACA T 3:10:34
2nd Mª MAYALEN NORIEGA- CNMATARÓ 3:14:07
3rd IVET FARRIOLS 3:26:32
FEMALE CLUBS
1st CT DIABLILLOS DE RIVAS 12:07:49
MALE CLUBS
1st SALTOKI TRIKIDEAK 8:15:19
COMPETITION PHOTO GALLERY