José Almagro and Adriana Charry, Champions of Madrid of Duathlon Cros 2012
The Madrid town of Tres Cantos yesterday hosted the Cros Duathlon Community of Madrid Championship, where Jose Almagro, from the Santander Club and Adriana Charry, from the Madrid University Triathlon club, were proclaimed winners in this modality.
Valid test to know the title both individually and in the League of Cros Duathlon Clubs, brought together the best athletes of the moment.
Although the cold and the wind were present at all times, we were able to see once again, a tireless Jose Almagro, with a time of 1:06:02, who did not hesitate for a single second to show the audience his skill in on the MTB achieving a clear advantage of 1'30 over the second classified in this cycling segment and, which gave him the possibility to face the last leg of the race on foot with total peace of mind to be able to enjoy, for the third consecutive year, this deserved victory of Champion of the Community of Madrid of Duathlon Cros. Alexis Rodríguez, Independiente, achieved second place with a time of 1:07:33 and Hector Guerra from the Val D Europe Team Cycliste club completed the podium.
In the female category, a new name joins the ranks, the Madrid duathlete Adriana Charry, from the Madrid University Triathlon Club with a total time of 1:19:15, took the title. Followed by Anais Tommy and Lucía Pérez, both from the Diablillos de Rivas club, a deserved second and third place on the podium.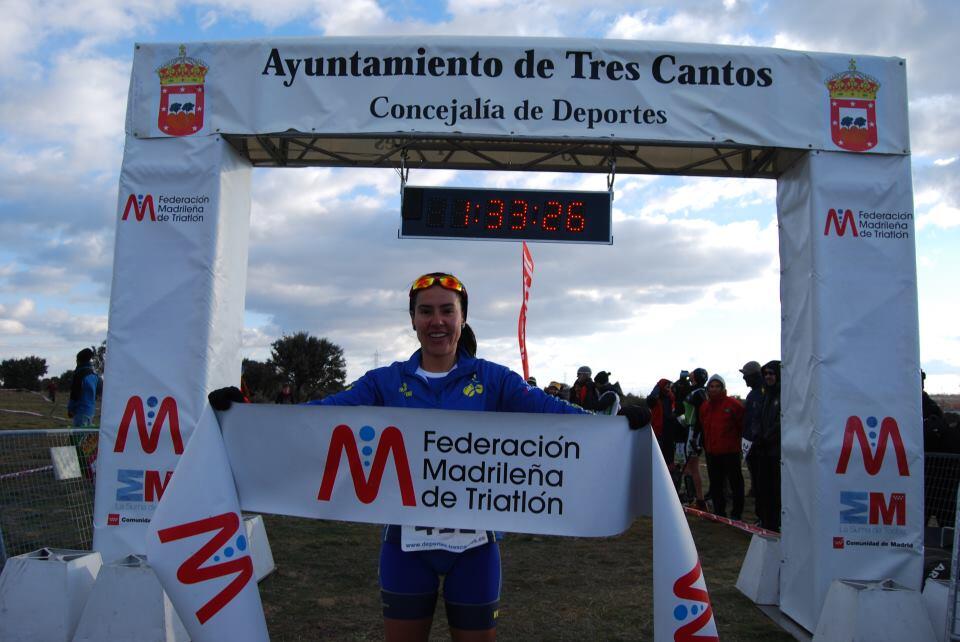 In teams, the members of the Marlins Moratalaz club were proclaimed Team Champions of the Community of Madrid League in the Duathlon Cros modality. In the female category, Diablillos de Rivas took the victory.
Once they reached the finish line, Jose Almagro was satisfied with the result obtained. "Although the preparation with which I have come to face this test was not as expected and at the starting line we could see great duathletes of the moment who Together with the cold and the wind they made the circuit tougher, I managed to win. I am happy to have this title once again in Duathlon Cros ". For the second classified Alexis Rodírguez "despite fighting for the first place, I feel very happy to share the podium with Jose Almagro and Héctor. For me, José Almagro is the best duathlete of the moment and it is a pride to be able to compete with him "
Hand in hand with Laetus, the town of Tres Cantos celebrates its twentieth anniversary in hosting this event. For Mario Chuan, from the Department of Youth and Sports of the Tres Cantos City Council, "This city brings together a large number of athletes, facilities and sports fans. We are proud that, after twenty years celebrating this event, Tres Cantos has positioned itself today as a benchmark in this sporting modality "