José Hidalgo, President of the Spanish Triathlon Federation, picks up the Gold medal of the Royal Order of Sports Merit.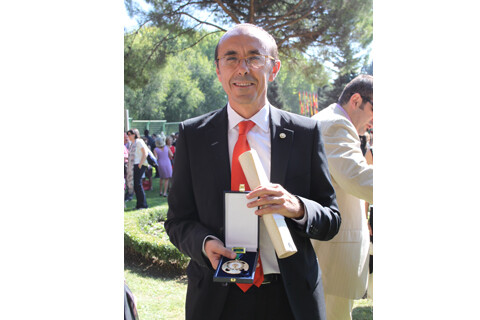 Today the delivery of the Royal Orders of Sports Merit 2011 was held at the INEF headquarters in Madrid. José Hidalgo, President of the Spanish Triathlon Federation, has received the Gold Medal from the Infanta Doña Cristina.
Mr. Albert Soler, Secretary of State for Sports, was in charge of opening the event, welcoming the attendees and giving words of gratitude to all those people who have given their lives to sport and who, thanks to their efforts, sacrifice and dedication have managed to position Spain as an international benchmark.
According to statements by Mr. Jose Hidalgo, President of the Spanish Triathlon Federation, "First it was a great surprise when they informed me since this recognition is not something that you present yourself or apply for it, but rather it is a jury on who decides each year of the Spanish sports scene to whom it should be given and today seeing who I have shared this medal with, I can do nothing but feel tremendously happy and privileged ".
"In the world of sports, recognitions should be mainly for athletes; and when they reach a person who is dedicated to management and trying to make their sport grow globally, I believe that this recognition should serve to try to make Triathlon better known and so I take it at this time as an opportunity for triathlon can be more recognized, in this golden age that our sport is now experiencing "
"I would really like to share this award with all the people who are behind the scenes, in the back room of our sport, doing a quiet but very important job and who make it possible with their quiet work that we continue to grow; the committed people who are in the organization of competitions, the judges and officials, the technicians, the managers and directors of so many Spanish clubs and especially I believe that the medal is also the fault and an important consequence of the work that all the Federation staff are doing Spanish always subjected to great pressure and always watched and scrutinized in everything they do and of course the fellow Presidents of Autonomous Federations people with a great commitment and who carry out a work not always recognized but essential for the structuring and organization of our sport ; Thank you all and tell you that a part of this medal is yours "
On the other hand, it is worth highlighting the delivery of the Grand Cross, the highest distinction of the Royal Order, to Mr. Vicente del Bosque, Soccer Coach, Mr. Gervasio Deferr, gymnast and Mr. Jaime Lissavetzky, former Secretary of State for Sports, who shared This act.