Jose Miguel Pérez gets a Top20 at the WCHS Yokohama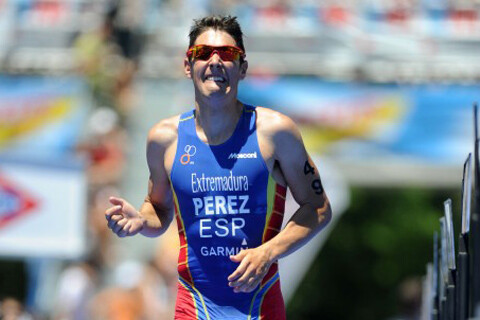 In the last round of the Triathlon World Series held today in Yokohama, with the absence of the three absolute leaders, the Brownlee brothers and the Spanish Javier Gómez Noya, it was the Portuguese Joao Silva, with a total time of 01: 49: 21, who has imposed himself as the winner of this appointment after an excellent race on foot.
The Portuguese Joao Silva, has been accompanied on the podium by the Russians Alexander Bryukhankow, 01:49:35, and Dmitry Polyansky, 01:50:04. The Spanish Jose Miguel Pérez, knew how to fight and stay in the Top20 of the test during practically the entire circuit finishing in 18 position, 01:51:39 and Fernando Alarza 33, 01:52:58. The other two Spaniards who completed the Spanish team, Mario Mola and Iván Raña, did not finish the circuit.
In harsh weather conditions, with more than 30 degrees Celsius and wet weather, the podium places have been defined in the running segment.
The swimming segment that had two laps to complete the 1500 meter swim was led absolutely by the Russians. Dmitry Polyansky, Ivan Vasiliew, Alexander Bryukhankov and Vladimir Purbayevskiy, who were the first to get out of the water. The Portuguese Silva, who finally won the test, started in sixth position.
The cycling segment was developed on a circuit of 8 laps, until completing the 40 kilometers, where the triathletes stayed together in a large group entering the transition in the same way with just 10 seconds of difference between the first and last classified.
As soon as the race started on foot, it was the Japanese Yuichi Hosoda who led the test, but he was soon overtaken by Silva and he was taking down positions until he finished in tenth position. The Russians followed with a constant distance to the Portuguese Joao Silva, but finally they did not manage to reach him, entering the goal with a clear difference of 16 seconds on the second classified.
With this appointment, the 8 tests, including the Grand Final held last weekend in Beijing, of the 2011 World Triathlon Series are finished.
The next appointment of the WCHS 2012 will be in Sydney, on April 14 and 15, which will be followed by San Diego, Madrid, Kitzbühel, Hamburg, Lausanne and Yokohama to end with the grand final on October 20-22 in Auckland, New Zealand .
Mario Mola and Iván Raña did not finish the test
More information and results: http://wcs.triathlon.org/results/results/2011_dextro_energy_triathlon_-_itu_world_championship_series_yokohama/5974/