José Miguel Pérez, Silver for Spain at the Tongyeong World Cup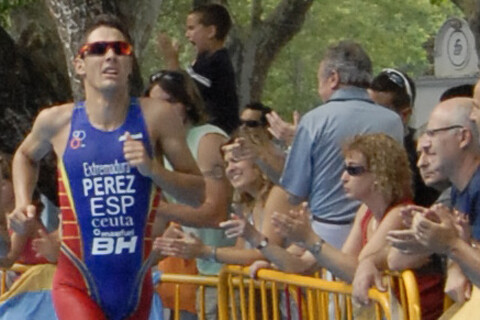 The Spanish José Miguel Pérez has managed to finish second in the World Cup held today in the Korean town of Tongyeong, thus achieving his first medal in a World Cup.
Russian Dmitry Polyansky took first place with a total time of 01:49:33 followed by Jose Miguel Pérez at 16 seconds with a time of 01:49:49. In third position came the Belgian Simon de Cuyper with a final time of 01:49:52.
The race was very fast from the beginning due to the strong rhythm imposed by the Russians in swimming, but where the Spanish managed to start in the first group and thus be able to face the cycling sector with more tranquility.
Although a tough circuit on the bike was expected, the demand increased due to several attacks. Before reaching the transition, a second group caught up with the leaders, starting the running sector with a large group of triathletes.
Josemi managed to catch up with Polyansky's group before finishing the first lap, thus being able to place himself in the group that would ultimately contest the medals, but he had to wait for the final stretch to get second position in a sprint with the Belgian De Cuyper that just ended third.
The Spaniard commented at the end of the race "Without a doubt it has been a great joy for me and for the people who support me and surround me, it is my first medal in the World Cup and achieving it after this difficult year has been a recognition and an award also for the people who supported during this time. I owe a large part of this award to them "
The next appointment of the World Cup Series will be next November 6 in Guatape (Colombia).
TOP 10 OF THE TEST
| | | | | | | | | | | |
| --- | --- | --- | --- | --- | --- | --- | --- | --- | --- | --- |
| | | | | | | | | | | |
| 1 | | Polyansky | Dmitry | RUS | | | | | | 01:49:33 |
| 2 | | Perez | Jose Miguel | ESP | | | | | | 01:49:49 |
| 3 | | From Cuyper | Simon | BEL | | | | | | 01:49:52 |
| 4 | | Raphael | Aurà © lien | FRA | | | | | | 01:50:06 |
| 5 | | Pig | Min Ho | KOR | | | | | | 01:50:10 |
| 6 | | Jaskolka | brands | POL | | | | | | 01:50:20 |
| 7 | | Dodds | Tony | NZL | | | | | | 01:50:23 |
| 8 | | Hofer | Daniel | ITA | | | | | | 01:50:25 |
| 9 | | Celustka | Jan | CZE | | | | | | 01:50:39 |
| 10 | | Vasiliev | Ivan | RUS | | | | | | 01:50:48 |
More information and results:
http://www.triathlon.org/results/results/2011_tongyeong_itu_triathlon_world_cup/6003/