Josef Ajram, champion of the Epic 5 in Hawaii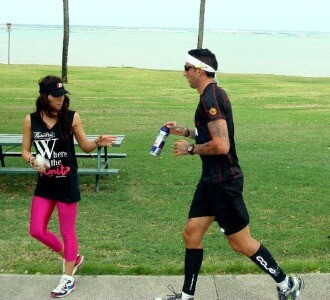 Josef Ajram has today been proclaimed absolute champion of the ultimate ultra-distance race, the Epic 5, an extremely tough challenge that consists of completing 5 ironmans in 5 consecutive days on 5 Hawaiian islands. The island of Big Island has seen Josef arrive in second position today, although he remains as first classified overall, having managed to be first in the tests of the previous four days.
The numbers speak for themselves: 19 km of swimming, 900 km of cycling and 210 km of marathon and all in 59 hours and 50 minutes, this is the feat achieved by the Catalan, who adds to his record one of the most precious pins between heavy duty tests.
This last stage has been particularly complicated, since the five participating athletes were already showing great physical exhaustion. "I have slept 3 hours tonight. After each test you have to disassemble the bike, get to the hotel, pack your suitcase and the next day it's not getting up and going swimming, but you have to go to the airport, get to the start line by bus... I got up at 5.45:XNUMX this morning and I only had two croissants for breakfast at the airport, incredible if you think about what was ahead of me".
Josef has taken 13 hours to complete this last ironman. He has started at 11 in the morning (local time) with the swimming part in the ocean, which "is the most relaxed because it is the first one", he affirmed. Then it was time for the bike, which although it is his strong point, is where he has suffered the most due to a knee discomfort that he had been carrying since the previous stage. "I found myself in a critical situation from kilometer 12 because my knee hurt a lot when pedaling. I've tried everything from raising and lowering the saddle to changing positions or wearing two shorts. Already at kilometer 60 I found the ideal position and I continued without problems".
The marathon has once again been hard from a psychological point of view because it has been carried out again on a highway and with artificial light because it is at night. "My nails are destroyed, but as the doctor who has been with us these days has said, what can you expect when you hit the asphalt 150.000 times a day."
The participants have found the maximum difficulty throughout these five days in the wind that was coming against them: "It is much worse than the rain because you have to make twice the effort to advance", commented the Catalan.
As impressive data, Josef has consumed 8.300 calories in this fourth stage, 42.000 in total over the five days. "For me it was like reaching the top of Everest for a mountaineer. Doing 5 ironman in 5 days is the demonstration that if someone has a solid motivation he is capable of achieving anything. A friend recently reminded me that seven years ago I said that my dream was to complete an Ironman, and now I have just done this. I'm super excited." Without a doubt, now less than ever Josef has an answer to the question of where the limit is.
Source: brand