Judith Corachán wins Challenge Salou for the second consecutive year
With a large sector of foot race has revalidated the title achieved last year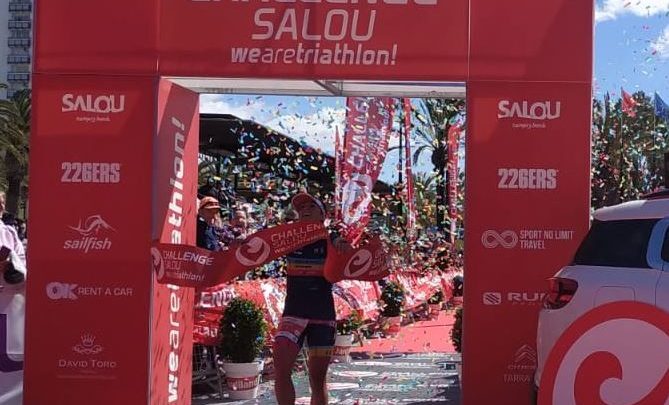 The triathlete with a great cycling and running sector has achieved victory in the Challenge Salou, with a sign of professionals of a great level.
After the victory in the men's test of Pieter Heemeryck and the second place of Pablo Dapena, we have seen a female test where Judith Corachán has managed to revalidate the title obtained last year.
Regarding the competition, the first to complete the 1,9 kilometers of swimming was Helle Frederiksen followed by Helene Alberdi at 40 seconds and by Margie Santamaria at 50. Judith Corachán was fourth at 1:20 and Saleta Castro 3th to XNUMX minutes leading up to the race.
In the cycling sector, Frederiksen and Kimberley Morrison led the first lap, distancing themselves from their pursuers with 35 seconds out of a group of 3 with Judith Corachán, Margie Santamaria and Maja Nielsen. Helene Alberdi passed eighth at 2:20 while Dolca Ollé and Saleta Castro passed 13th and 14th at almost 6 minutes.
In the second lap, Daniela Bleymehl and Judith Corachán passed in the lead, leading by 2:30 to Margie Santamaria.
Finally at the end of the cycling sector the first one to get off the bike was Bleymehl taking 10 seconds ahead of Corachán
Judith with a great pace of pace was slowly distancing Bleymehl through the middle of the course with almost a minute 1 advantage.
Finally Judith Corachán has proven to be at a great level, winning the test with a very high level sign winning the test with a final time of 4: 16: 58. The second classified has been Daniela Bleymehl (4:18:38) and third Alexandra Tondeur (4: 21: 32). As for the rest of Spanish Helene Alberdi it has been ninth, Saleta Castro 15ª and Dolca Ollé ª 18