Judith Corachán wins the San Francisco marathon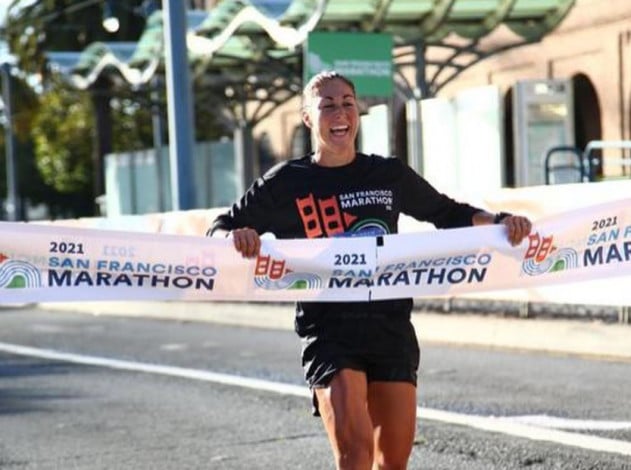 triathlete Judith Corachán During his stay in the United States, he took advantage of a stop in San Francisco to compete in the city's marathon, achieving the best of results, victory.
On a leisure trip, Judith and her partner Javi they decided at the last minute to participate in the test.
Judith kept up with Javi (4'10-4'15) and when she realized it she was leading the race. He finally got the victory in a time of 2:55:33.
Top 3 women's San Francisco Marathon 2021
| | | | |
| --- | --- | --- | --- |
| Place | Name | Net Time | Division / Place |
| 1 | Judith Corachan | 2:55:33 | F 35-39 / 1 |
| 2 | Elena Makarevich | 3:10:41 | F 40-44 / 1 |
| 3 | Emily Haggerty | 3:13:52 | F 25-29 / 3 |
In his social networks he has commented on what happened:
▶ ️ @javijcm sees that the race coincides with our arrival in San Francisco and convinces me to do it (from tourism, he tells me). And you had to do the 42k because it was the only distance that passed through the mythical bridge 🌁
⏸ my slogan was clear: go out to enjoy and forget about the clock. Mainly because I didn't want to "destroy myself" and sacrifice vacations and tourism. (@carlesturcarbonell advises me to shoot at 80% (4,15-4,20)
↪️ Javi Just before the start he tells me that he will start 4'10-4'15 ". If so ... I tell him ... I try to go with you. It was my biggest motivation for that day, running together.
🔄 Well, when I realized it, I was in first position and.
↔️ was a great gift. Not only because of the triumph that he always likes, but because of what it means to lead the race from start to finish (lots of cheers from the public, cameras ...) very fun and exciting.
⏺ I prefer to enjoy 42k with Javi. Running a hard marathon (you know what San Francisco is like ⛰) but very beautiful. And above all to have such good feelings. And not end up as "touched" as I thought.
See this post on Instagram