Judith Corachán Runner-up in the LD Triathlon World Anna Noguera bronze
The final victory was for the Belgian Alexandra Tondeur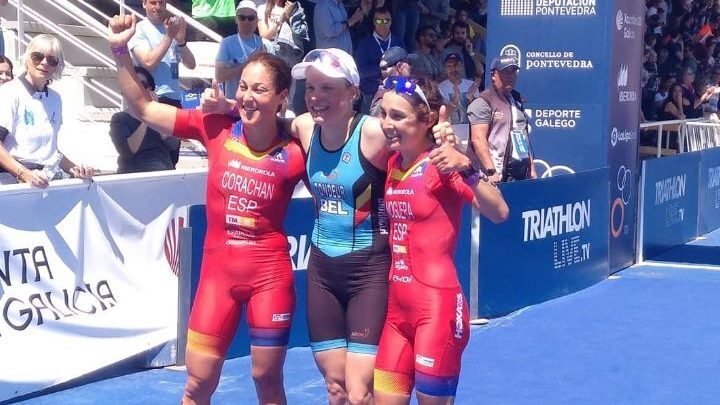 We have seen a beautiful duel between the Spaniards until the end where Judith Corachán it has been second and Anna Noguera third in a great race
After the recital we've seen in the men's test with the double of Javier Gómez Noya and Pablo Dapena It was the turn of the women's event, where we had a broad Spanish representation.
In the swim that was cut from 3.000 to 1.500 meters, the first to leave the water was the Swiss Emma Bilham followed by Anna Noguera at 48 seconds, Saleta Castro , Ewa Budgol and Judith Corachan at 52. María Pujol left at 1 minute and Gurutze Frades it came out about 6 minutes behind.
In the demanding cycling circuit, a quartet was formed in the lead with Manon Genet, Alexandra Tondeur, Anna Noguera and Judith Corachán, ahead of the chasing group by 1:33 on the first lap.
An increase in the pace of the French and the Belgian, made them leave alone followed by the Spanish who were gradually distancing themselves, increasing the lead to 2 minutes in the second lap
In the final part of the segment Manon Genet left her escape partner to reach T2 with 1:08 advantage over Tondeur, 4:18 over Corachán and 4:53 over Noguera. Saleta Castro got off the bike ninth at 19 minutes, Gurutze Frades 10th to 21 'and María Pujol 12th to 27.
In the race on foot the Belgian Tondeur traced back little by little to catch up with the French Genet before reaching the second lap. At this point they were ahead of Judith Corachán and Anna Noguera who were marching together by almost 4 minutes.
A penalty of the French, made her lose 1: 50 on Toudeur and with a fading that the athlete suffered made her lose time in each kilometer, so that finally the Spanish duet reached her to fight for the silver medal in a beautiful duel between Corachán and Noguera.
Finally the victory has been for Alexandra Tondeur with a final time of 5: 48: 01
In the beautiful duel between the two Spanish for second place, Judith Corachán and Anna Noguera, made several changes of rhythm to try to escape, where in the end Judith Corachán (5: 50: 06) in the final part of the race managed to leave to get the second place in the world. Anna Noguera (5:51:33) was third.
As for the rest of the Spanish, Gurutze Frades was 8th, Saleta Castro 9th
Goal video of Alexandra Tondeur
A truly amazing & emotional finish. Congratulations Alexandra Tondeur of Belgium, 2019 #ITUpontevedra19 long distance world champion !!@ITUmultisport @ITUpontevedra19 pic.twitter.com/hS5PtCwQ0y

- TriathlonLIVE (@triathlonlive) May 4th 2019


Video summary

Classification

1 #51 Alexandra Tondeur BEL 05: 48: 01
2 #68 Judith Corachan ESP 05: 50: 06 + 00: 02: 05
3 #53 Anna Noguera ESP 05: 51: 33 + 00: 03: 32
4 #71 Manon Genet FRA 05: 54: 16 + 00: 06: 15
5 #54 Maja Stage Nielsen DEN 05: 57: 13 + 00: 09: 12
6 #70 Emma Bilham SUI 05: 57: 51 + 00: 09: 50
7 #73 Asa Lundström SWE 06: 02: 54 + 00: 14: 53
8 #55 Gurutze Frades ENG 06: 07: 30 + 00: 19: 29
9 #72 Saleta Castro ESP 06: 08: 23 + 00: 20: 22
10 #62 Maki Nishioka JPN 06: 11: 23 + 00: 23: 22
11 #66 Ewa Bugdol POL 06: 18: 20 + 00: 30: 19