Julián Sanz wins the triathletes of the Urbiko Triatloi in the challenge 300 Km BKOOL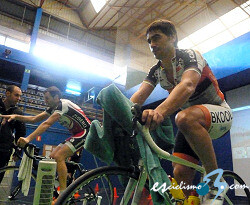 The ultra-distance cyclist Julián Sanz exceeded 302 kilometers on the virtual training system BKOOL in 8 hours and 19 minutes, winning the challenge that had been raised when facing three triathletes from the Urbiko Triatloi Taldea de Basauri team who did 100 km each .
The three triathletes were unable to maintain the rhythm that Julián maintained during the more than 8 hours that he remained impassive and concentrated on his bicycle.
The event was held at the Arrigorriaga Sports Center, during the celebration of the II Indoor Triathlon, witnessing another achievement of the Champion Julián Sanz, who tirelessly does not stop surprising those who see up close and in action the only Spanish runner who has competed in the Race Across America.
Has it been difficult for you to keep up with the three triathletes you faced?
My goal was to be regular. Staying at my threshold during the 300 kilometers was the only way to keep up with each change of relay by the Urbiko team.
Did you ever see the challenge in jeopardy?
At kilometer 160, I had a disadvantage of 1 kilometer and a half, and I really found it difficult to keep up the pace imposed by the second relay, the one marked by Raúl Gómez del Río, but I could not move away, even turning around facing the kilometer 200, where I started 1,7 kilometers ahead of the last relay that Ramón García made. Already seeing that the advantage could be maintained, the last 50 kilometers I increased the pace and I was able to lead by 7 km to finish the challenge with this advantage, being very satisfied to see that the body was able to respond in the face of the final stretch.
Has the competition system been attractive with BKOOL teams?
It has been very attractive and very pleasant to roll on these virtual equipment, being also very enjoyable to be able to view real images recorded during the Tour of Spain and reproduced during the challenge and reproducing the hardness as a greater or lesser resistance according to the unevenness. This makes the motivation higher. A great system created by the BKOOL team.
Are there new challenges ahead with this system made here?
Yes, it may be a way to continue competing in winter and that is very motivating.
Next season, what are your goals?
To compete. Compete in the World Cup, in the Race Across America. I only think about competing, continuing to progress and competing. For this, we need to make our way looking for the necessary financial support and that work is what we are dealing with now.