Triathlon News
Katie Zaferes World Triathlon Champion 2019
The American triathlete has won victory today and her first world title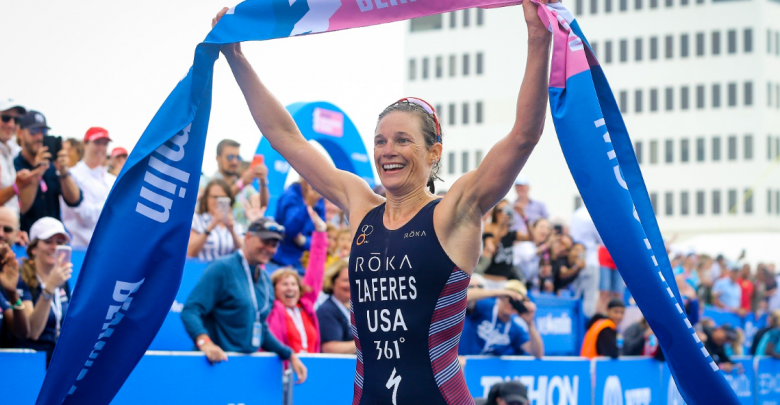 After the male test dispute where Kristian Blummenfelt has won the test, Vicent Luis the world title and the Spanish Mario Mola, Javier Gómez Noya and Fernando Alarza the second, third and fourth place in the world, it was the turn of the women's event where Katie Zaferes was the favorite.
The North American arrived with 755 points of advantage over Jessica Leartmonth and was worth it with being 12ª in the test as long as she did not win the British.
On the starting line we had two Spanish Miriam Casillas and Anna Godoy.
Zaferes has achieved 5 victories and a second place in the season which has shown that she has been the most regular athlete in the WTS.
As for the competition, the first one out of the water was Jessica Leartmonth followed by 1 seconds by Lopes Vitoria and Talyor Spiviey in a very stretched group.
In the cycling segment, Leartmonth tried to leave alone from the beginning. Behind a group of 7 units with Zaferes, Taylor, Duffy or Nicola Spirig passing 8 seconds in the first round.
Shortly after they managed to reach it. From there a group of 7 was formed in the lead with Duffy, Zaferes, Spivey, Leartmonth, Taylor Brown with 35 seconds ahead of the chasing group.
Finally a group of 5 units arrived at T2 with Duffy, Zaferes, Taylor, Leartmonth and Lopes with an advantage of 51 seconds with the chasing group.
At the beginning of the race on foot the first three of the Ranking left leaving Lopes and Flora Duffy behind. The fight for the second place in the World Cup was exciting because only one place of difference could give the runner-up to Taylor Brown.
The three left alone passing with 30 seconds of advantage in the first round, In passing through the second round the three head already outdone in seconds to Duffy
Everything remained the same until the final part of the race where Leartmonth accelerated the pace leaving Taylor and leaving to dispute the victory.
Finally Katie Zaferes He has taken the victory in the final sprint with a time of 2: 04: 44 followed by 4 seconds with Jessica Leartmonth The third classified has been Georgia Taylor-Brown that has reached 18 seconds of the winner
After today's test the classification has been as it was, getting the American Katie Zaferes has been proclaimed 2019 Triathlon World Championship.
As for the Spanish Miriam Casillas has been the 21ª and Anna Gogoy has retired