Katie Zaferes wins the Montreal World Series
Ha North American has achieved its fourth victory in the WTS 2019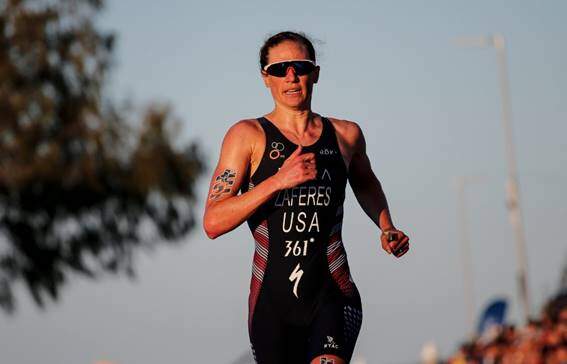 Today has been held in Montreal (Canada) the fifth appointment of the Triathlon World Series, where the current leader of the Ranking, the North American Katie Zaferes has not given option and has taken his fourth consecutive victory this season, postulating as the great favorite to get the world title.
On the starting line was his direct rival, the British Jessica Learmonth second of the Ranking and Georgia Taylor Brown fourth . Taylor Spivey third, finally has not participated in the test. Carolina Routier has been our only representative in the test.
The test, which has been contested under sprint distance, It began at 20:36 p.m. (Spanish time) where the first to get out of the water was the Brazilian Vittoria Lopes, followed by Maya Kingma, Jessica Learmonth and Katie Zaferes. Carolina Routier started in ninth position 12 seconds behind the head of the race.
With a fast transition the four heads tried to go solo on the bike going through the first lap with 10 seconds ahead on a group of 4 with Georgia Taylor Brown, Alice Betto, Tamara Gorman and Taylor Knibb.
In the passage through the third round the group of head of unified, being 8 units with an advantage of 31 seconds on their pursuers.
Little by little they increased their advantage to reach T2 with 37 seconds ahead of Lopes and 1:04 over the chasing group.
Katie Zaferes left the first to run followed by her fellow escapees, to little by little leave with Georgia Taylor Brown alone.
The duet was gradually taking advantage to go through the middle of the course with 11 seconds ahead of Learmonth and 15 on Betto.
In the last kilometers we could see an exciting duel between the two, so that in the absence of just 200 meters to the end with a strong attack Katie Zaferes will take the victory with a time of 58: 15 followed by Georgia Taylor Brown - 58:26 and Jessica Leartmont (58: 49) which has finally been third. Carolina Routier has been 17ª, getting its best result of the season
With this result, Zaferes continues as the world leader with 5 races, where his worst position so far has been in the last WTS Leeds where he was second
The men's test will start at 22:00 (Spanish time)