Kebi Triathlon and Imp de Rivas Champions of Epaña de Duatlón Team time trial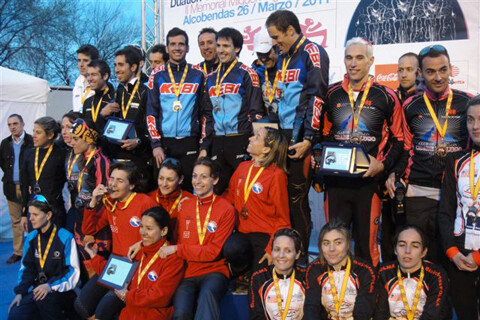 In the Madrilenian town of Alcobendas the Spanish Duathlon Championship against teams was contested, winning the Kebi Triathlon of Guernica in the men's category and Diablillos de Rivas in the women's category.
This massive test with 202 teams took place on a very fast circuit, with a tough race sector but with a very fast cycling sector. In the Men's category, the winning team, Kebi Triathlon, spent a time of 0:56:13 followed by the Soriano Triathlon Deporama in second position and the third place by the City of Lugo Fluvial.
In the women's competition, the Diablillos de Rivas team obtained a time of 1:10:14, followed by the Cidade de Lugo team and the Esproten Tritoledo leader in third position.
We must congratulate the organization, judges, civil protection and all the people involved in this event for a magnificent competition taking into account that it has been more than 10 hours of competition
The classification is as follows:
THE FEMALE TOP 10
1st CT DIABLILLOS DE RIVAS. 1:10:14
2nd CIDADE OF LUGO FLUVIAL 1:10:25
3º LIDER-ESPROTEN-TRITOLEDO 1:12:45
4th CNMATARO 1:15:41
5th T. SANTANDER 1:16:12
6th CNREUS PLOMS 1:16:51
7th MARLINS TRIATLON MADRID 1:17:23
8th TRIATHLON ARCADE INFORHOUSE SANTIAGO 1:17:30
9º TRAGALEGUAS.ORG 1:17:32
10th CTH PICASSENT FEM 1:18:07
THE MALE 10 TOP
1º KEBI –TRIATLON 0:56:13
2nd DEPORAMA TRIATLON SORIANO 0:56:58
3º CIDADE DE LUGO FLUVIAL 0:57:07
4th LAGUNAK-SALTOKI TRIKIDEA 0:57:30
5th TRIATHLON ARCADE INFORHOUSE SANTIAGO 0:57:43
6th CT DIABLILLOS DE RIVAS. 0:57:48
7º LIDER-ESPROTEN-TRITOLEDO 0:58:05
8th TRI-VAL TRIATLON VALDEMORO 0:58:30
9th CLUB TRIATHLÓN SEGOVIA 2016 0:58:57
10th CNPRAT-TRIATLO- 0:58:58