Kipchoge will look for this Saturday to get off the 2 hours in marathon
After his first attempt at Monza in 2017, the Kenyan will try to break that barrier in Vienna with the help of 41 'hares'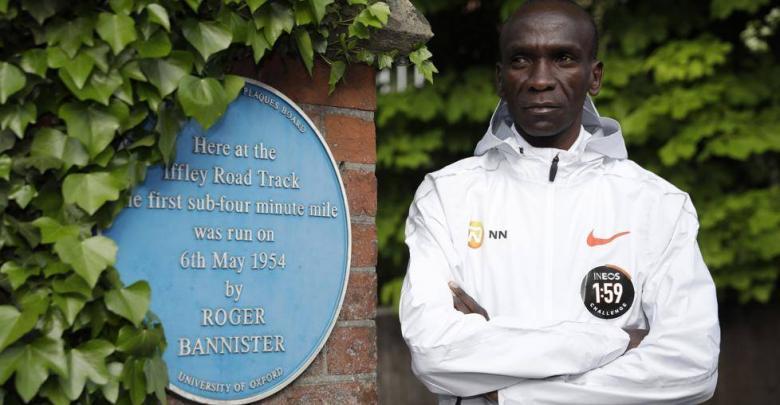 The Kenyan Eliud Kipchoge, marathon world record (2h01: 39), will definitely try to be the first athlete on Saturday Run a marathon in less than two hours.
As reported by sports world The organizers of the challenge that intends to tear down the two-hour wall -one of the mythical athletic barriers- have set the race definitively this Saturday because of the favorable weather conditions.
«The current conditions of temperature, humidity, wind and absence of precipitation seem optimal for this Saturday morning »said Robby Ketchell, meteorologist of the Ineos 1 team: 59, the test sponsor.
Totally flat circuit
The test, in which he will run alone but supported by 41 'hares', will take place in the Viennese Prater park, in completely flat circuit of 9,6 kilometers, of which the vast majority of the route is straight.
It will be 4,3 kilometers one way and many others back. At both ends there are two large roundabouts that have been adapted to avoid any unevenness.
Now that the date is set, the countdown to the race begins and Kipchoge has already adapted his food for the test after arriving in Vienna on Tuesday from Kenya.
The record will not be homologated
The 34 year-old athlete has only been defeated once in a total of eleven marathons - with a second place in Berlin 2013 - and holds the world record, with 2h: 01: 39, a mark that the Ethiopian Kenenisa Bekele stayed 2 seconds after breaking in the Berlin marathon last September 29.
In case of ending the well-known two-hour wall, the record will not be homologated since the conditions of the International Athletics Federation (IAAF) are not fulfilled, although the mark will remain in the history of athletics.
You will have 41 hares to get it
A total of top-level 41 'hares', including three Norwegian brothers Ingebrigtsen -Henrik, Filip and Jakob-, will be exchanged in the race to help you keep up the necessary pace.
This will be the second time Kipchoge tries to be the first to run below two hours a marathon.
Two years ago, the 5 of May of 2017 in the Italian circuit of Monza, Kipchoge already ran the fastest marathon in history, culminating with a non-homologated mark of 2h00: 25