Kristian Blummeflet 2021 Triathlon World Champion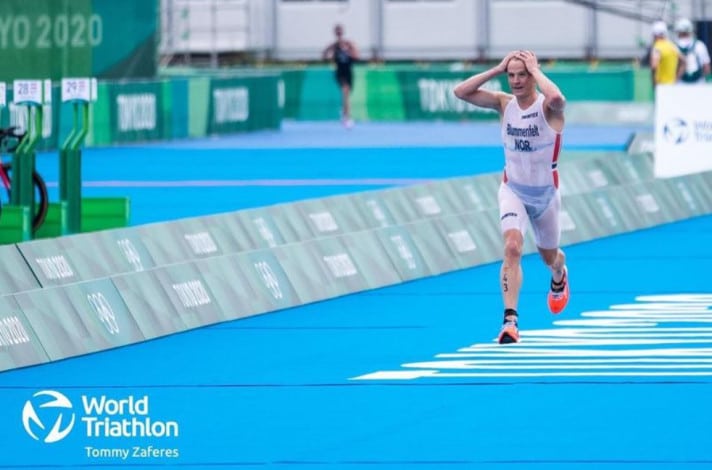 After female test where Taylor Knibb has taken the victory and Flora Duffy was the World Championship, it was the boys' turn, in a test where Alex Yee y Kristian Blummenfelt they only arrived 39 points apart.
The competition that has been very fast and exciting, with a sprint finish where Kristian Blummenfelt he has taken the victory and the World Championship.
The second classified has been Martin Van Riel (1: 44: 14) and third Leo Bergere (1: 44: 15)
sprint finish in #WTCFinalsEdmonton @kristianblu GOLD@MartenVanRiel BEL earns silver in Edmonton and 2nd place in the overall World Triathlon Championship Series! Frenchman @LeoBergere claims bronze medal today. Lixsanyee GBR fought hard to secure bronze on the Series podium. pic.twitter.com/Af7wRNOGUV

- World Triathlon (@worldtriathlon) August 21
Alex Yee, silver in Tokyo, which has completed its best season of its sporting life has finally been 11th.
Regarding the Spanish participation Antonio Serrat he has been the only representative of the Triarmada and has finished in the final 8th position.
Antonio, with this result, has finished among the 10 best in the World Ranking in this year 2021.
Results
| | | | | |
| --- | --- | --- | --- | --- |
| Position / Bib | Atelta | Country | Time | Difference |
| 1 # 2 | Kristian Blummenfelt | NOR | 1:44:14 | |
| 2 # 3 | Marten Van Riel | BEL | 01:44:14 | + 00: 00: 01 |
| 3 # 5 | Léo Bergere | FRA | 01:44:15 | + 00: 00: 02 |
| 4 # 15 | Seth rider | USA | 01:44:23 | + 00: 00: 10 |
| 5 # 12 | Adrien Briffod | SUI | 01:44:24 | + 00: 00: 11 |
| 6 # 7 | Dorian Coninx | FRA | 01:44:26 | + 00: 00: 13 |
| 7 # 14 | Tayler Reid | NZL | 01:44:26 | + 00: 00: 13 |
| 8 # 8 | Antonio Serrat Seoane | ESP | 01:44:35 | + 00: 00: 22 |
| 9 # 20 | Takumi hojo | JPN | 01:44:41 | + 00: 00: 28 |
| 10 # 6 | Vincent Luis | FRA | 01:44:52 | + 00: 00: 39 |
| 11 # 1 | Alex Yee | GBR | 01:44:53 | + 00: 00: 40 |