Kristian Blummeflet wins the Yokohama World Series
It was the first date of the 2021 circuit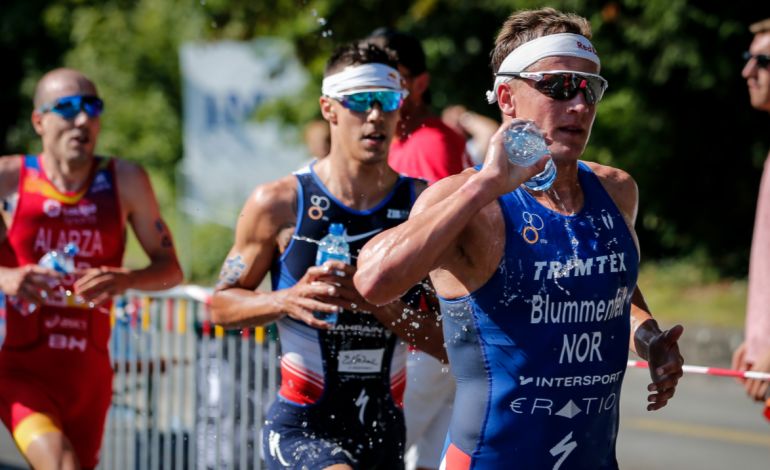 After the female test where Taylor Knibb has taken the victory and Miriam Casillas has achieved a great eighth place, it was the turn of the male category.
The Yokohama WTS have kicked off the circuit in 2021 and featured some of the best athletes in the specialty.
Spain has been represented by triathletes Fernando Alarza y Antonio Serrat.
The competition that began at 6:00 AM in Spain has been played under Olympic distance with this format:
Swimming: 1.5km (0.75km × 2 laps)
Biking: 40km: (4.45km × 9 laps)
Race on foot: 10km (2.5km × 4 laps)
The first to get out of the water was Vicent Luis, followed 2 seconds away by Marte Van Riel, Richard Varga and Pierre Le Corre leading a long group of 26 units in 20 seconds. Antonio Serrat started at 35 '' and Fernando Alarza at 37.
At the beginning of the first lap, two groups of 9 units ahead were formed trying to break the race, although by passing through the 3rd lap there were already 3 different blocks.
The first of 23 units in the lead with Luis, Brownlee, Blummenfelt, Royle followed 30 seconds by the second group with 25 units with Alarza and Serrat, Yee, Iden.
Little by little the chasing group, where we have seen a very combative Antonio Serrat, was cutting time to catch up with the leaders in the 6th lap, forming a group of 41 units.
The peloton joined T2 with Vasco Vilaca in the lead to fight for victory in the 10 km race on foot.
In the first few meters of the running we saw an attack from Jonas Schomburg, Alex Yee, jelle Geens and Kristian Blummeflet formed a quartet trying to leave alone.
In the passage through the first round, the quartet was 12 seconds ahead of a group led by Vicent Luis. At this point Alarza was 18º and Serrat was 20º at 24 seconds.
In the second passage through the goal, Schomburg was left off the hook of the leading trio that passed 16 seconds of the chasing group of 11 units with Luis, Iden, Corre, Stornes.
In the course of the third lap, the Briton Alex Yee took off, leaving Geens and Blummeflet in the lead with many race options, since with a strong rhythm they left alone.
On the last lap, we saw a nice duel between Geens and Blummeflet for the victory so that it was finally decided with 2 km to go where the Norwegian attacked, leaving alone for the victory.
Finally, the victory went to Kristian blummenfet with a time of 1: 42: 55 followed by Jelle Greens (1:43:05) and by Morgan Pearson (1: 43: 12) in third position.
As for the Spanish Fernando Alarza It has been 14º and Antonio Serrat 15 º
Kristian Blummenfelt NOR strikes gold in Yokohama to win the first race of the 2021 World Triathlon Championship Series!https://t.co/JwsigQVZc7 #WTCSYokohama@kristianblu pic.twitter.com/h8tL8d5wfn

- TriathlonLIVE (@triathlonlive) May 15, 2021
Classification
| | | |
| --- | --- | --- |
| Pos | Athlete | Time / Difference |
| 1 # 8 | Kristian Blummenfelt | 1:42:55 |
| 2 # 11 | Jelle Geens | 01:43:05 +00:00:11 |
| 3 # 19 | Morgan Pearson | 01:43:12 +00:00:18 |
| 4 # 9 | Alex Yee | 01:43:17 +00:00:23 |
| 5 # 5 | Henri Schoeman | 01:43:26 +00:00:32 |
| 6 # 1 | Vincent Luis | 01:43:35 +00:00:41 |
| 7 # 3 | Marten Van Riel | 01:43:37 +00:00:43 |
| 8 # 6 | Léo Bergere | 01:43:37 +00:00:43 |
| 9 # 7 | Gustav Iden | 01:43:39 +00:00:45 |
| 10 # 14 | Jonas Schomburg | 01:43:40 +00:00:46 |