Kristian Blummenfelt IRONMAN World Champion in St. George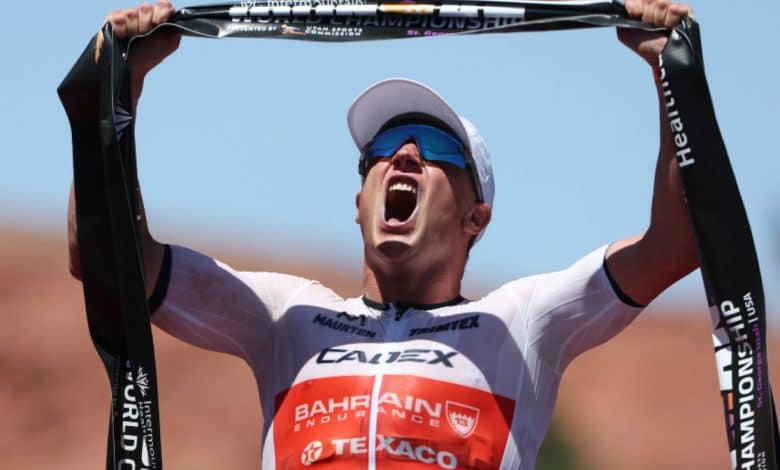 Today was held in Utah, United States the IRONMAN World Championship in a test marked by many absences.
Top-level triathletes stand out as Jan Frodeno, Patrick Lange, Javier Gomez Noya, Alistair Brownlee, Gustav Iden or Joe Skipper among others.
Everyone was waiting for the duel between Kristian Blummefelt and Gustav Iden, but a last-minute casualty yesterday of the double world champion 70.3 and the British Brownlee has left us without seeing them compete head-to-head.
Career Chronicle
The competition began at 6:15 a.m. (14:15 p.m.) Spanish time with the 3.800-meter swim where the first to come out of the water was Sam Laidlow along with Daniel Baekkegard, Kyle Smith, Braden Curry and Florian Angert in 11 seconds. . Blummenfelt started 10th at 2:10 alongside Andy Potts
In the cycling segment, the leading quintet increased its advantage to pass kilometer 80 of the race with 4:44 over a group formed by Cameron Wurf, Leon Chevalier,Kristian Blummenfelt, Matt Trautman or Sam long among others.
On the last climb of the circuit, the leaders continued together but from behind they separated Lionel Sanders and Blummenfelt who passed through km 167 with a difference of 4:20 with the leading group. The rest of the chasing group passed at 6:47 with Sam Long in the lead.
The first to arrive at T2 was Kyle Smith followed by Laidlow, Angert, Currie and Baekkgard at 7 seconds.
Behind came Cameron Wurf, Blummenfelt and Sanders together, 4:16 behind the leaders.
In the first part of the foot race, Branden Currie left alone, leaving the rest of the group and going through the 12 kilometer race with a 1:35 advantage over Smith. Kristian Blummenfelt was sixth at 4:11, leading Sanders by 1:11, who was 6th at the time.
In passing through the half marathon Currie was still the leader but already losing time on Blummenflet who was already second at 2:27. Sam Laidlow passed 3rd at 3:42. Sanders passed 7th at 5:31 from the head of the race.
Little by little the Norwegian was cutting distance to catch up with him at kilometer 29 of the race segment, passing him and leaving alone.
From there Kristian Blummenfelt He has continued to increase his advantage to reach the finish line alone and win the world championship with a time of 7:49:16
The second classified has been Lionel Sanders (7: 54: 03) and third Braden Currie (7: 54: 19)
With this victory, the Norwegian continues to make history by achieving his first IRONMAN world title in his first participation in a world championship.
The Times of Kristian Blummenfelt
Swimming: 49:40, average of 1:17 min/100m
T1: 1: 12
Biking: 4:18:43, average 42,16 km / h
T2: 1: 42
Race on foot: 2:38:01, average 3:44 min / km
Final time: 7: 49: 16
Men's Top 10 IRONMAN St. George
| | | |
| --- | --- | --- |
| Site | First Name | Time |
| 1 | Kristian Blummenfelt | 07:49:16 |
| 2 | Lionel Sanders | 07:54:03 |
| 3 | Braden Currie | 07:54:19 |
| 4 | Chris Leiferman | 07:57:51 |
| 5 | Florian Angert | 07:59:35 |
| 6 | Leon chevalier | 08:01:41 |
| 7 | Daniel Baekkegard | 08:02:06 |
| 8 | Sam Laidlow | 08:02:56 |
| 9 | David McNamee | 08:04:36 |
| 10 | Ben Hoffman | 08:06:38 |
In the female category, the Swiss Daniela Ryf has achieved victory and his fifth world title