The Tri WWW association launches a solidarity kit to acquire sports equipment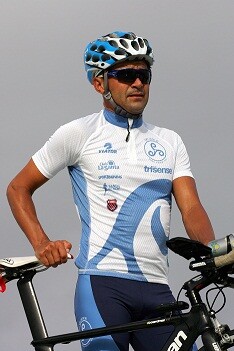 On the 10th and 11th of September, the Valencia Triathlon Gran Premio Ibercaja will bring together 2.600 athletes of all ages and conditions. In this edition, the organization wanted to make a commitment to Tri WWW This charitable association will be present at the event to raise awareness among sports fans of the importance of promoting the inclusion of people with disabilities and their need for solidarity to be able to face sports practice
To this end, Tri WWW, with the support of the sports marketing company Trisense Sport, has launched a solidarity kit that can be purchased through the website: www.triwww.com. The income generated from the sale of this kit (available in mesh with padding, sleeveless jersey and sleeveless jersey) will go towards the purchase of sports equipment for athletes with disabilities.
Yerai Betancor and Andrés Martín
The canary Yeray Betancor, 31, had an accident in a swimming pool and was left in a wheelchair. Dumped into sports, he needs a handbike to compete. It is the equivalent of the bike for people with reduced mobility. Its cost is high, between € 4000 and € 5000.
Andrés Martin was born in Lanzarote 17 years ago. Passionate about triathlon, he will participate in the Valencian event teaming up with Rafa Botello and Alain Fuertes. To continue practicing triathlon, Andrés needs a bicycle that has been converted into a tricycle, since he can move his legs, but he does not have the balance to ride a bike. But these are not the only goals Tri WWW is pursuing. With the proceeds from the solidarity kit, it intends to invest in other projects such as joelettes (chairs for adapted hiking) or chairs for practicing adapted paddle tennis, among others.
A commitment to adapted sport
The commendable work of Tri WWW in search of the development of people with disabilities through sport, already has numerous support from athletes, companies and entities. However, they need to keep working to get more and more people to participate in their commitment. The launch of the solidarity kit is an unbeatable opportunity to do your bit. Information and sale: www.triwww.com