The Australian Sheedy-Ryan wins the Women's European Cup ahead of Abysova and Vodickova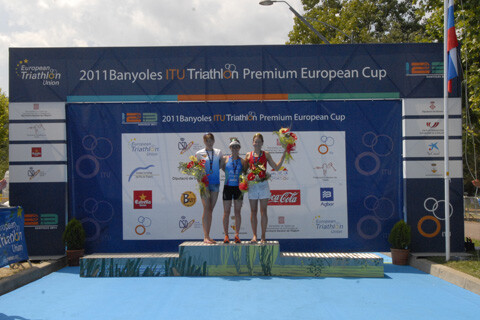 Today the Banyoles Triathlon Premium European Cup was held, which hosted a high-level event for the first time after the Championship of
Junior Europe in 1993. The event has distributed 25.000 euros in prizes.
The women's event has started at the 9.45h before a thousand spectators who have gathered near the lake. The first to leave the water have been
a group of six triathletes formed by the Italians Peron and Bonin, the English Lang, the Spanish Ana Godoy and Carolina Routier, and the winner of yesterday's elite test Radka Vodickova.
Ana Godoy lagged behind in the cycling segment when she was swallowed up by a large chasing group, while the five triathletes rode together for the next five laps. In the last lap, a single group of 22 athletes has been created who have jointly made the transition from cycling to athletics.
The most agile and fastest in the transition was Australian Felicity Sheedy-Ryan, who started first, with a few meters of advantage that no other triathlete has managed to overcome in the 10km run. He crossed the finish line alone with a time of 1h58'11 ».
After her the fight for the podium positions has been very disputed. The Australian was followed by a group of three athletes formed by Marta Jiménez, the Russian Irina Abysova and the Australian Van Coevorden. Behind was the Czech Radka Vodickova who was climbing positions after a bad bike transition.
After the halfway point of the race on foot, Marta Jiménez has lost contact with the group and as she has commented in statements to the press "I have been losing strength and positions, because the hardest thing has been the race on foot. Finally, the Russian Abysova has taken second place and Vodickova with third place, ahead of the Australian, who has had to settle for 4th place.
As for the Spanish, Marta Jiménez has finished in 7th position and Carolina Routier, from Banyo, in 11th ahead of her compatriot María Ortega with whom she has done almost the entire race on foot. Routier, has been very happy with the test. "Swimming was relatively easy" and on the cycling section "it was very comfortable without very steep or difficult turns." He also thanked his partner María Ortega for their collaboration in the running.
Sheedy-Ryan, who trains in France during the summer, said that at the beginning of the test she felt "very tired, perhaps from having competed last week in Genoa", where she also won. "I had to push hard on the bike, as it was quite late." Regarding the test, he said that "he hopes to come next year" because it was a very beautiful and well-organized route.