The Extremaduran Miriam Casillas is proclaimed world champion of triathlon cros in female junior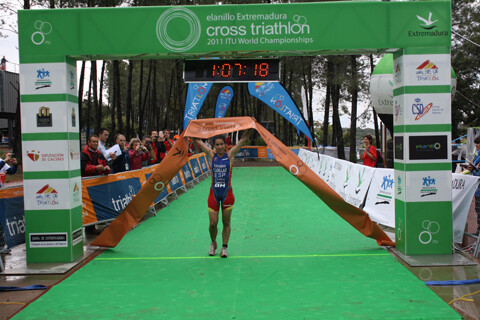 Miriam Casillas Cros Triathlon World Champion in Junior Female Category is proclaimed, Podium also for Diego Paz in third position Junior Male.
On the morning of April 30, the First Cros Triathlon World Championship was held at the International Center for Sports Innovation in the Natural Environment of "El Anillo" (Cáceres).
The Junior Women's start has been given at 9:05 in the morning. The day has dawned cloudy, but respecting the test at all times. In the first pit transition we were able to see the Spanish Triathlete Ana Godoy in the lead, however, the bike segment is the one that has marked the final classification.
According to statements by the Extremeña Miriam Casillas, Extremeña, current Cros Triathlon World Champion in her category with a total time of 1:01:47, "the swimming segment has not been decisive, I have taken advantage of the bike segment to press and I have arrived calmly at the part of the race, achieving an advantage with reference to the second competitor at the time of entering the finish line, I have felt very good competing in Extremadura, my land, with the support of the public, my family and friends "
Good results also for the Spanish, Judit Saizar, third in her category with a time of 1:05:14 and only 4 seconds behind the second classified, the Dutch Jip Veelenturf, Anna Godoy, fifth and Camila Alonso managed to enter sixth at the finish line.
The men's podium has been as follows, Portuguese Filip Azavedo and first classified with a time of 0:50:36, Hugo Alves also Portuguese, second classified with a total time of 0:50:52 seconds and in third place the Spanish Diego Paz 0:51:28 The Spanish Genis Grau, David Castro and Jordi García have arrived in 7, 8 and 9 position.
JUNIOR FEMALE
1 Casillas García Miriam ESP 01:01:47
2 Veelenturf Jip NED 01: 05: 09
3 Saizar Ardanuy Judit ESP 01: 05: 14
4 Veinberga Sindija LAT 01: 12: 19
5 Godoy Contreras Anna ESP 01: 13: 27
6 Alonso Camila ESP 01: 21: 00
JUNIOR MALE
1 Azevedo Filipe BY 00: 50: 36
2 Alves Hugo BY 00: 50: 51
3 Paz Sobreira Diego ESP 00: 51: 28
4 Van Woersem Jarrich NED 00: 51: 49
5 Fernandes Miguel BY 00: 52: 29
6 Lishak Filip SVK 00: 54: 17
7 Grau Genis ESP 00: 54: 59
8 Castro Fajardo David ESP 00: 55: 28
9 Garcìa Gracia Jordi ESP 01:00:33