The Olympic Ainhoa ​​Murua sweeps in the duathlon of Caravaca arriving with more than 15 minutes of advantage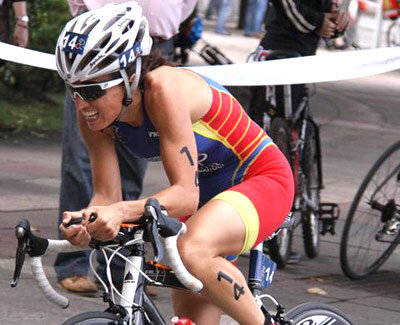 The Olympic athlete Ainhoa ​​Murua was the first woman to cross the finish line in the XII City of Caravaca Duathlon, which in this edition had more than 400 registered in the different categories.
With a total time of 1: 36: 30 took more than 15 minutes to the second classified, Krisztina Flora, and almost 20 to the third classified, María Raquel Miras, who was proclaimed regional duathlon champion, being the first from Murcia to cross the finish line. Murua is the Spanish elite triathlon champion and the best Spanish Olympic distance triathlete). After the leading trio, Miriam Álvarez, from Guadalara; Jesica Guerrero, from Elche; Pilar Vilchez, from Orihuela and Ida Cortés, from Molina de Segura.
Among the male athletes there was more fighting for the top positions; Jesús Gomar (Spanish Elite runner-up) and Isaac López (high-level triathlete, member of the Spanish team) arrived at the finish line, with a difference of one second; the third was Cristóbal García, from the Caravaca Triathlon Club, who arrived in a fist just two seconds later, with a time of 1:23:35, proclaiming himself regional duathlon champion.
The fourth classified was Jon Unanue (national first level long distance triathlete). The Cartagena athlete Raúl Guevara was fifth, while Alberto Plazas and Emilio Pérez from Caracas, who is also the Sports Councilor, entered 6th and 7th place, respectively.
By teams, in the men's category, the victory went to the host team, CT Caravaca, with the times of its first three athletes, Cristóbal García, Alberto Plazas and Emilio Pérez; while the first place went to CT Tragamillas, from Orihuela, with the times of Raquel Miras, Mª Pilar Vilchez and Eugenia Gil.
The Ciudad de Caravaca Duathlon brought together, in addition to the athletes, a large group of companions who did not stop encouraging their athletes at all times. The course of the test, according to the athletes themselves, was quite hard; They covered 6.200 meters on foot in the first place (two laps of an urban circuit with steep slopes), then continued with 32 kilometers by bicycle (two laps of the circuit) and finished with a final running lap that would take them to the finish line next to the monastery of Nuestra Señora del Carmen, in La Corredera. The exit was located this time next to the Templete.