The Paratriarmada, ready for the Tokyo Paralympic Games
The Spanish, with several medal options in different categories.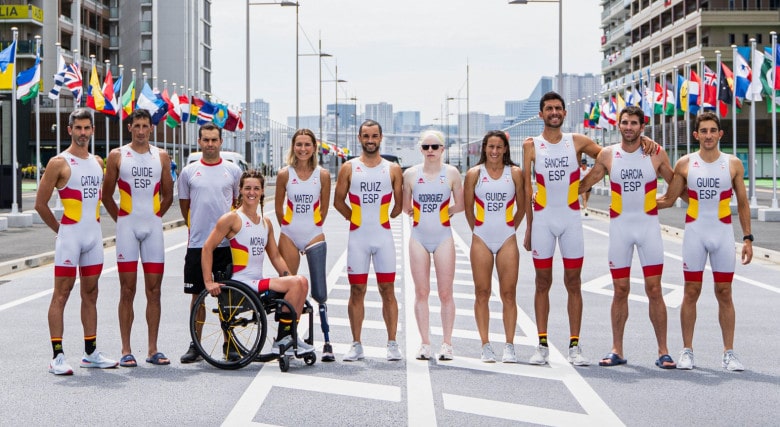 After its premiere in Rio de Janeiro 2016, the paratriathlon consolidates its presence in the Tokyo Paralympic Games, in which the Spanish Paratriarmada considerably increases its participation and with clear medal options in different classes.
From Friday the 27th to Sunday the 29th of August, the paratriathlon tests that can be followed on Teledeporte live will be held.
This is the program and schedules of competitions that can be followed live on Teledeporte and with the comments of the international paratriathlete Kini Carrasco.
Friday, August 27, 23:30 p.m. PDT - Male PTS4.
Alejandro Sánchez Palomero He will be the first Spaniard to jump into the water in Odaiba at the Paralympic event. A regular on international podiums in recent years, he will seek a Paralympic medal, a milestone that he already achieved in his time as a swimmer. The Chinese Wang or the local Uda will be his main rivals in the fight to get into the drawer.
Friday August 27, 23:31 PM PDT - PTS2 Women.
The paratriathlete Rakel Mateo returns to competition after the amputation of his right leg at the beginning of the year and with the desire to improve the position achieved in Rio'16 in a class that has seen how several athletes have not been able to travel to Tokyo due to accidents with vehicles in training The last weeks.
Saturday, August 28, 00:30 AM (PST) - Male PTVI
The World Champion and the European Champion fight in a fratricidal duel between companions of the Paratriarmada.
Héctor Catalá (guide: Gustavo Rodríguez) and José Luis García (guide: Pedro Andújar) have arrived in Tokyo with clear medal aspirations but with great rivals lurking such as the British Ellis or the French, American or Australian teams.
Saturday, August 28, 01:31 (UK time) - PTVI Women.
The great world dominator of the female visual class wants to endorse the cycle with the Paralympic gold, after a year in which due to her role as a doctor she has had to deal with the pandemic in the first person.
Susana Rodríguez (guide: Sara Loehr), will try to dominate the race with authority from start to finish, taking the 1500m test the next day at the athletics stadium.
Saturday, August 28, 23:31 PM PDT - Women's PTWC.
Eva Moral (handler: Angel Salamanca) He arrives in Tokyo in an ascending preparation and with a clear intention of returning from Japan with a medal. The Australians and the Americans, their great rivals.
Sunday, August 29, 01:30 AM PDT - Male PTS5.
The one who is, for the moment, the only medalist in our paratriarmada, Jairo Ruiz (bronze in Rio'16) faces one of the most contested races, in a class in which the ten participants have options to fight for metal.
Jairo will try to value his cycling and running sector to repeat the feat of five years ago.
Next international competition, Valencia European Championship