The magazine "Triathlon" echoes the creation of Club TriMadrid, your club 2.0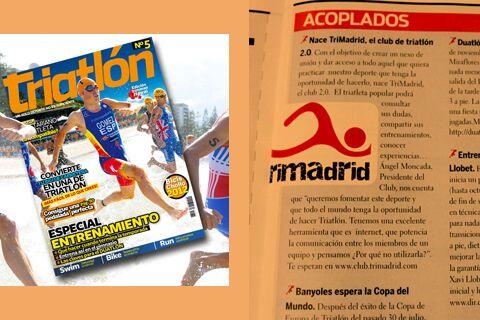 The Magazine "Triathlon", Belonging to the internationally renowned publishing group, MPIB, which has magazine headlines in our country, among which we have Runners, SportLife and Bike, among many others, echoes the creation of the new "TriMadrid" Triathlon club. Our sincere thanks to the entire team!
TriMadrid, the 2.0 triathlon club, is born. With the aim of creating a link between athletes and giving access to anyone who wants to practice our sport and has the opportunity to do so, TriMadrid, the 2.0 club, was born. The popular triathlete will be able to consult his doubts, share his training and learn experiences through his forum. Ángel Moncada, President of the Club, tells us that "We want to promote this sport and that everyone has the opportunity to do Triathlon. We have an excellent tool that is the internet, which enhances communication between team members and we think, why not use it? We are waiting for you at club.trimadrid.com
You know, the magazine "Triathlon" number 5, is already on your newsstand, also this month brings Javi Gómez Noya on the cover. The magazine includes a Special Training that will allow you to successfully plan the next season, learn the keys to training in the gym and also achieve the plan to be a better duathlete in 2012.
In the nutrition section we discuss whether it is possible to be a vegetarian and a triathlete and we tell you how to convert your road bike into a triathlon while spending very few euros. The material testing section is very loaded as we choose the 20 triathlon bikes with the best value for money, we help you choose shoes for the foot race with a supercomparative and much more in 148 pages full of the sport that has us hooked .
You will also be able to read the chronicle of the spectacular Garmin Barcelona Triathlon in which you participated and which broke all records and we give you the first test calendar of 2012.