The Spanish selection of Age Groups, prepared for the Laussane Triathlon World Championship
Of the 20 triathletes 15 are men and five women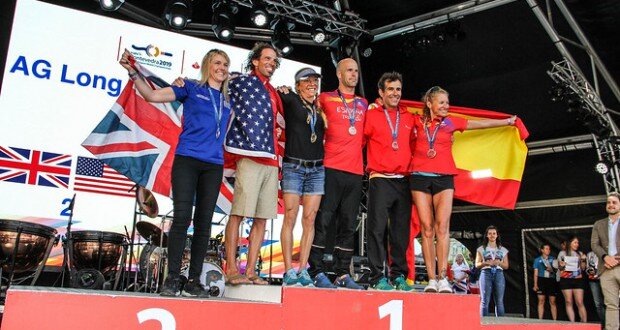 The World Series final will be held in Laussane between the August 29 and the September 1 and the Triarmada will disembark accompanied to fight for the title of World Champion with three protagonists, Mario Mola, Javier Gómez Noya y Fernando Alarza, second, third and fourth in the world ranking.
Together with them, the rest of the triathletes selected to compete in this last race of the international circuit will compete. Antonio Serrat y Vicente Hernández will close participation in the Men's Elite test, and Anna Godoy, Miriam Casillas, Carolina Routier y Sara Perez Sala will form the Women's Triarmada that will compete in the Elite test.
In sub category 23 our representatives will be Cecilia Santamaría, Roberto Sánchezand the brothers Ignacio and Alberto González. And in the junior category the triathletes Sergio Baxter y Angel Sanchez lThey will fight for positions of honor.
20 trialtetas of age groups will be in Laussane
Together with all of them, the Triarmada will have 20 members of the national team that will compete in the World Group Triathlon World Championship in Olympic and sprint distances.
Of the 20 triathletes 15 are men and five women, and 11 will participate in the Olympic distance World Cup, 7 in sprint distance and two triathletes will compete in both events. The Autonomous Communities represented by these triathletes will be Andalucía, Aragón, Asturias, Baleares, Cataluña, Galicia, Madrid and Valencia.
Within the support program created by FETRI, athletes registered in Lausanne will receive a series of services from the Spanish Triathlon Federation, in addition to a welcome pack distributed in Swiss lands by our sponsor Austral with an exclusive shirt of groups of age and a backpack, which can be picked up at the Expo.
Information FETRI Age Groups
Key dates:
Thursday, August 29, parade of nations and inauguration ceremony
Saturday August 31, Sprint Triathlon World Championship
September 1, Olympic Triathlon World Championship
The complete schedules can be consulted here https://lausanne.triathlon.org/event-info/schedule/
The tours can be consulted here https://lausanne.triathlon.org/athletes_info/course_maps/
SPRINT GGEE TRIATLON WORLD CHAMPIONSHIP LIST
Carmen Francesch G55-59F
Pedro José Prada G50-54M
Antonio Carlos Fernández Coppel G50-54M
Guillermo Santiago G40-44M
Andreu López G15-19M
Francisco José Pérez G50-54M
Israel Romero G40-44M
Javier López G35-39M
Angel Santamaría G70-74M
GGEE OLYMPIC TRIATHLON WORLD CHAMPIONSHIP LIST
Javier López G35-39M
Angel Santamaría G70-74M
Tomás Ibañez G45-49M
José Piña G60-64M
José Antonio Grau G55-59M
Adrián Souto G35-39M
Marga Rico G35-39F
Daniel Arribas G30-34M
Maria Lorena Alonso G30-34F
Eduardo Sesé G40-44M
Vanesa Villar G35-39F
Gonzalo Garcia G40-44M
Purification López G55-59F