The Spanish National Team is already in Beijing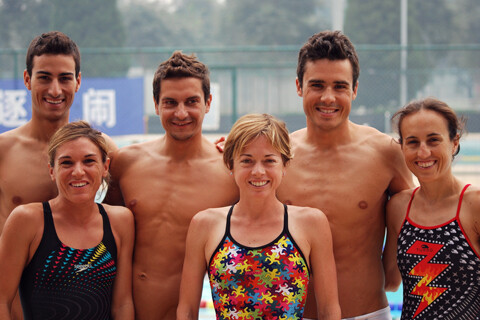 Six will be the triathletes that represent the Spanish Triathlon Team in the grand final of the World Series to be held this weekend in Beijing (China)
The Galician Javier Gómez Noya, current Triathlon world champion, together with Iván Raña and Mario Mola They are already in Beijing prepared to represent Spain in the grand final of the World Series. Ainhoa ​​Murua, who is currently in the top 20 of the ranking about to get her ticket to the 2012 Olympic Games in London, will participate in the women's elite category together with Zuriñe Rodríguez and Marina Damlaimcourt
Javier Gómez Noya is currently third in the world ranking with 2.858 points. It is the British Alistar Brownlee who leads him with 3.085 points followed by his brother Jonathan with 2.965.
According to statements made by Noya to the EFE agency a few days before leaving for Pekin "the objective is to go out and win the race and wait for what they do"
The Spanish triathlete already competed on this circuit in the 2008 Olympic Games with Iván Raña, achieving fourth and fifth place respectively. Also, the previous year Noya achieved first place in the Triathlon World Cup.
On Saturday we will know who will be the current World Champion. The Brownlee brothers have proven to be in excellent form this year, however the Spaniard has plenty of podium options.
Despite the fact that the Galician is in the throes of the London 2012 Olympic Games, on Saturday he will start with the clear objective of occupying a podium position and will also fight to revalidate his title of Triathlon World Champion.
The appointment will be this Saturday the 10th at 6.30 in the morning Spanish time. The women's event on Sunday the 11th at 7.30.
Trimadrid will broadcast the men's event live on Twitter twitter.com/trimadrid